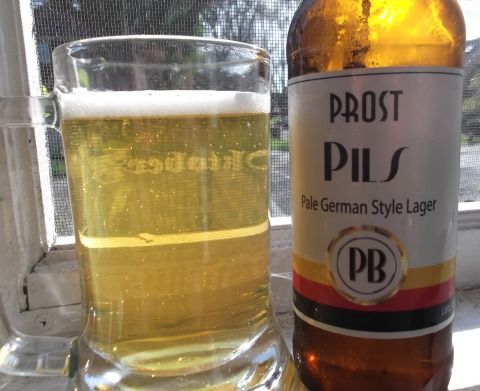 The last time I had a bier from Denver's Prost Brewing Company, I was
not impressed
and not a little disappointed. But I'm sympathetic to any brewery that refrains from brewing beer whose style has the word "India" in it and refuses to barrel age its way into the crapulent hearts, minds, and livers of the crafty clerisy. And so I recently gave the brewery another chance and smapled their
Pils
.
Prost describes Pils as a "Pale German Lager" which I took to mean that it was a German pilsener as opposed to being styled after a Czech variety. While someone like Evan Rail can give a whole exegesis on the varieties of Czech pilsners, my purview is much more limited. For my palate, a Czech pils is heavy on spicy/peppery Saaz hops and has a golden color which indicates a body that neither very light nor particularly heavy. Bohemian water is known for its softness which imparts other characteristics to Czech pilsners. The German pils, as I know it, is lighter and less hoppy. Plus German hops generally lean towards more grassy and herbal flavors than Saaz do. German water hardness is, however,
terra incognita
.
It would probably be a good (and highly tasty) idea to get some Budvar, Pilsner Urquell, Staropramen, and the like to try to figure out what makes a Czech pilsner a Czech pilsner and what exactly soft Bohemian water does for their beers. I just have no idea how fresh the Czech piwo we get here in Madison is.
Sadly my pilsner glasses are all packed away so Pils' lovely pale yellow didn't get a chance to show itself off. It was clear, as expected. My pour gave a small, ephemeral white head. Sadly, there were precious few bubbles in the glass. Truth be known, I didn't have high hopes at this point as I expected a much more vigorous effervescence instead of the more lethargic looking brew I had before me.
However, after taking my first sniff, most of my fears dissipated in a wisp of malty goodness. Pils has a fantastic crisp cracker scent that is laced with a wonderful spicy and herbal hop bouquet. It had what I think of as a quintessential German pils aroma. But would it taste as good?
Despite not being particularly effervescent, I could certainly taste the carbonation. I'm not talking champagne levels of fizziness here but Pils has a nice little bite to it. The crackery aroma translated to a light , clean biscuit taste. While I wouldn't describe it as a big malt backbone, I could never forget that there was some grainy goodness underneath the bier's big hoppiness. Pils has a bold, complex hop taste with its showcase of Noble hop flavors. There were some sweeter floral tastes carefully blended with herbal and spicy ones in such a way as to let each stand out yet coexist tastefully. Despite the prominence of the lupulin, Pils wasn't very bitter.
It did, get more bitter on the finish, though. The malt and the more floral hops flavors faded and allowed the spicier and more pepper-like hops tastes through. In addition to a bigger hop flavor, there was a not insignificant amount of bitterness too which made for a bracing and dry finish. Unfortunately there wasn't much
Schaumhaftvermoegen
to be had – just a few scattered patches that were rather small.
Prost really redeemed itself with Pils to my taste because this is a great bier. Whereas their altbier was timid and watery, Pils' light body was awash in flavor. It has a fantastic light, yet not insubstantial, malt taste that is clean and not very sweet. Atop this is a remarkably multilayered hop flavor that blends floral and herbal flavors along with a kick of spicy/peppery zing and proves that hops need not taste like various tropical fruits to have complexity.
Junk food pairing: Pils goes well with soft pretzels accompanied by a generous portion of a sharp cheese food product like Velveeta.
Labels: Beer, Pilsner, Prost Brewing Company