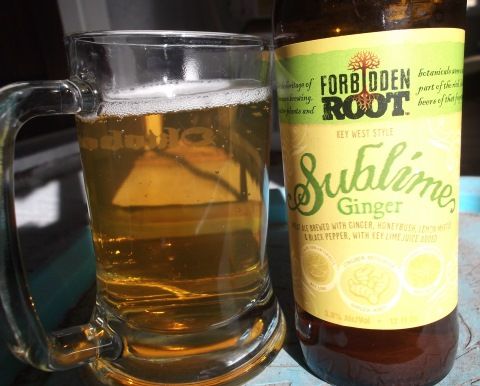 Chicago's
Forbidden Root
continues to brew against the grain by making beers that decidedly deemphasize hops and instead forage through herbs, spice, berries, nuts, and so on to find unique flavors to add to their brews. And since I last sampled one of their beers they have gone and opened a restaurant that serves food as inventive and off the beaten path as their beers.
Back in December I had
Shady Character
, a porter brewed with black walnuts, licorice, roasted chestnuts, star anise, and tellicherry pepper. On a recent venture to Chicagoland I grabbed 4-pack of
Sublime Ginger
as it looked to be a light thirst quencher and it seemed that warm weather was just right around the corner. Ha! Rain and cool temperatures moved in not long after I bought this beer.
Sublime Ginger is brewed with fresh key lime juice, ginger, honeybush, lemon myrtle. Like most people in my position, I had no idea what honeybush and lemon myrtle were as I pulled the 4-pack out of the cooler. I find it alternatingly intriguing and frustrating to drink gruits and so-called "botanical beers" such as Sublime Ginger. Trying new foods is a fine thing. Broaden your palate, I say. One might begin cooking with a new ingredient after having become enamored with the taste. But is also slightly vexatious because, not having tasted these botanicals before, I don't know if I can even taste them much less what they might add to the brew's overall aroma and flavor. How do you relate to someone else what an ingredient adds to a beer if you don't know what it smells and tastes like?
This is a minor gripe, to be sure, and the pleasure of drinking the beer and trying something new outweighs any frustration. But such reviews tend to be inferior for my tastes.
I sampled Sublime Ginger on a rather nice and sunny day. Out on my porch the sun highlighted the beer's lovely light gold color as well as its clarity. I need to become a little more aggressive with my pours because I think my last 20 reviews all mention a "small [insert color here] head" and this was no different. What's a guy got to do? Just turn the bottle upside down and put it in the glass? Anyway, the poor excuse for a head dissipated quickly while there was a smattering of bubbles in the beer.
This is one of those beers that reeks – but in a good way. I love being able to smell a beer's aroma even if my glass is several inches away from my proboscis. It's a sly bit of seduction that heightens your senses and builds anticipation. In this case, I caught a prominent bit of citrus. A proper sniff revealed more depth to that scent than my initial impression. Sure, I could smell the Key lime juice but was that lemon myrtle in there as well? The ginger was also happy to let your nose know it was an ingredient. It smelled rather fresh yet mellow at the same time. Not as pungent as, say, some Jamaican ginger beers I've had which have a sharp ginger aroma. There was also a little bit of pepper too. Not strong, mind you, but it was there.
While the citrus was bigger than the ginger in the aroma, the lime juice (and the lemon myrtle?) stepped aside on the taste. There is a reason for ginger be mentioned in the beer's name. While up front, the ginger flavor itself wasn't very sharp. It mixed well with a hint of pepper. The lime/citrus came next followed closely by a nice, vaguely sweet floral taste which I suppose could be the honeybush. In the background was a light grain/wheat flavor but there was also some malty sweetness.
The finish saw the ginger linger and offer a little bite in concert with the carbonation making for a rather dry ending. Alas and alack, there was no lacing left on my glass.
Sublime Ginger was incredibly tasty. While the ginger did not have a very sharp taste, it did retain a little zestiness which mixed well with the tangy citrus flavors. Both of these played against the malt sweetness which highlighted the floral taste that may or may not have come from the honeybush. To top things off, the carbonation put a fizzy spin on all of the above. With its light body (and 3.8% A.B.V.) this botanical alternative to the ubiquitous shandy makes a fine brew for enjoying in the summer heat.
Junk food pairing: Sublime Ginger is a light-bodied brew with brighter, more airy flavors and so it requires a food pairing on the lighter side. El Rey tortilla chips are made in Milwaukee and they are thin, light, and crisp – perfect for dipping in some kind of pre-made queso processed cheese food product kind of sauce. Just keep both the heat level and the cheesy sharpness at a low level.
Labels: Beer, Forbidden Root, Gruit