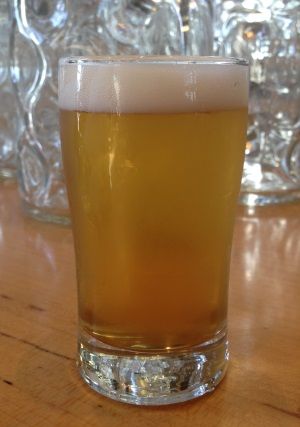 Earlier this week I made a trek out to Verona where the Wisconsin Brewing Company was debuting one of their Forward brews – the Forward series being limited trial runs of beers that are perhaps sometimes brewed simply to placate the desires of a brewer. Other times they seem to be pilot batches of brews in contention for bigger and better things.
This week there was a pilsner on offer, one that the brewery described as "a hybrid of Bohemian and German varieties". Upon reading this I thought back to the beginning of the year when a brew schedule showed that a new annual would be entering WBC's line-up apparently called Czech Pilsner and that it was due in July. The best laid plans, as they say. Apparently things changed and it remains to be seen whether a pilsner enters WBC's line-up or not. Maybe things have simply been delayed and the Forward beer is a prototype for a revamped pils to enter the fray. We shall see.
The taproom in Verona was doing a fairly brisk business when we arrived. I had invited a friend who is my usual companion to WBC on Wednesdays but he was unable to make it. In addition, he expressed fear in his e-mail to me that it would abandon tradition and be hopped with lupulin nouveau, teeming with tropical fruit flavor like a stick of Juicy Fruit. And so it was quite ironic to see that Golden Amber Lager was now being flavored with Cascade hops instead of Willamette(?). People can't get enough of those C-hops with their F-flavors, I guess.
Would the pils suffer the same fate?
I asked for a pils and was taken aback when I saw the gentleman behind the bar grab a couple sample glasses when I suddenly recalled that you get a free sample of the Forward brews. Thus my photo.
Pils was a medium straw color and, curiously enough, hazy. I even wiped my glass a second time to be sure my eyes weren't being deceived. They weren't. It appeared that I had another keller pils on my hands. My sampler glass came with a fairly sizable white crown of loose foam which lasted a fair while. Long enough for me to get the glass to a table, fumble with an iPhone, and get a passable photograph. Keeping in line with the style, it was plenty fizzy on the inside.
The beer's aroma was quite simply fascinating or rather it's lack of aroma. I think water has more of a scent than this beer. At one point after several sniffs, I think I caught a hint of cracker, but I don't know if this was my incredulous brain doing a poor job filling in the massive blank or if there were genuinely a few malt particles wafting into my nostrils. Nothing like some philosophical skepticism to go with your beer. On the other hand, at least it didn't smell like violets violently mashed together with passion fruit.
Tasting the beer I realized what WBC meant by a German-Czech hybrid. Initially it tasted Teutonic with prominent grassy hops laid over a light biscuit flavor. The carbonation added a little bite and dryness while the hop bitterness was fairly restrained. Things took a turn towards the Bohemian on the finish when the grain flavor faded allowing a more spicy/peppery hop flavor to come to the fore. I'm not sure if this come courtesy of Saaz hops or a similar variety. Things got pretty bitter and dry here, although not as much as a true Czech pils.
My little glass was left with a whole lotta
Schaumhaftvermoegen
- streaks of foam everywhere.
This was a good pils although "pils" may not be the most fitting term to describe a turbid beer with an aroma that may not be grounded in reality. Hell, maybe someone had too much double eyepah and forgot to add some hops. Whatever the case, this beer is pretty tasty. It's got a nice light body and a fine clean malt taste that's complemented by a goodly amount of fizz. The hops are forward – no pun intended – but not overwhelming. And I like how they went from grassy to spicy.
This pils is surely a beta, if not alpha brew. While it would be nice if it were tweaked and refined and finally put into regular rotation, I just don't see that happening with its Noble hop flavors.
Junk food pairing: If you head to the brewery to give the pils a taste, be sure to bring some snacks with you. Try some Jays Sour'n Dill potato chips or Buffalo Blue Cheese Pretzel Combos.
Labels: Beer, Pilsner, Wisconsin Brewing Company