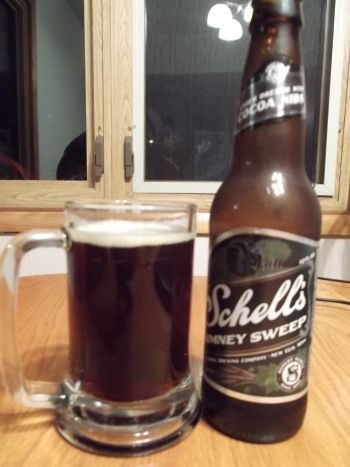 My last two reviews were from biers released in the spring and summer, respectively, so it's only proper that I now take on a more youthful brew from the autumn. Indeed, with the winter still a week and a half away, astronomically speaking, one could argue that this bier is yet in season. Available exclusively in
Schell's
fall sampler – its Prost Pack – I believe it arrived just as the autumn began.
It's not easy finding these sampler packs from our neighbors to the west. Schell doesn't exactly toot its own horn over them either. I can find neither hide nor hair about the Prost Pack at the brewery's website. This is perhaps understandable regarding their normal sampler pack which is simply a mix of year-round and seasonal biers. But the Prost Pack contains two biers not found elsewhere so why is Schell mum when it should be out there proudly attacking the hoppy tyranny of the eyepah?
Here in Madison I've had luck at Riley's Wines of the World but have been told that there's a lag time of of up to two months before a new Schell's product hits their shelves. Two months?! Then again, it's probably fair to say that Madison is not exactly in love with Schell and their German craft ethos as the rough beast I call home slouches towards Portlandia to be reborn as a pale reimagining of its lagery roots.
One of the new biers in the Prost Pack is Chimney Sweep with Cocoa Nibs.
Chimney Sweep
is what Schell calls an "extended seasonal" which means it's on store shelves a goodly part of the year. It is a rauch dunkel and a rather tasty one at that. Cocoa nibs are, I read here, bits of cocoa beans that have been fermented and then roasted in preparation to be transmogrified into chocolate. The admixture of roasty, earthy pyrazines and thizoles from the cocoa nibs and the smoky guaiacols and syringols sounded like a match made in heaven to me.
In the glass, the bier appeared ebony but held to the light I could see that it was a deep ruby-copper confluence. It was clear and I spied with my little eye a fair number of bubbles inside while up top was a small, creamy tan head that hung around about half a minute or thereabouts.
The aroma was heavenly with bitter chocolate and the base bier's rich smoke doing a delicate pas de deux. There was a lingering sweetness here too which is part and parcel of the non-cocoa nibbed Chimney Sweep.
Firm carbonation hit my tongue and was followed by the smoky goodness that I know and love. Dark chocolate was tucked in behind which not only added a nice earthy taste but it also added a touch of bitterness. The dunkel shone through with a nice, hearty roasted grain flavor with just a smidgen of coffee as well. As the bier warmed it took on the taste of stone fruit but never became overly sweet.
For the finale the smoke lingered while a grassy hoppiness stepped out from the shadows to add a little bitterness and some dryness too for a nice, crisp finish. There was a fair amount of
Schaumhaftvermoegen
which came in the form a webbing around much of my glass.
Opening this bottle I felt that it must surely be preordained that I'd love this bier and so it was. Those cocoa nibs didn't turn my beloved Chimney Sweep into some strange chocolate milkshake-like concoction. Instead they settled easily into a milieu of complementary flavors. The cocoa sat comfortably next to the smoke, roasted grain, and coffee of the rauch dunkel. Malt sweetness added a nice contrast. And I really enjoyed the hops on the finish which, on the one hand, added a contrasting dose of greenery yet also provided bitterness to join that of the cocoa nibs. While Chimney Sweep with Cocoa Nibs has a medium body with plenty of room for its variety of flavors, it also has that nice clean lager taste. It is a shame that such a tasty brew was sequestered away in a variety pack that was given precious little press.
Junk food pairing: Grab a bag of Pepperoni Pizza Cracker Combos to go with your Chimney Sweep with Cocoa Nibs. The faux pepperoni adds a spicy pork-like flavor and we all know you've gotta have pork to go with German biers.
Labels: Beer, Dunkel, Rauchbier, Schell Brewing