Our hotel was way out west, next to an I270 off ramp. I don't think it was actually in the city of St. Louis proper. Before making the trek out there for check-in, we decided to stop for one more beer. This time it would be
Side Project Brewing's
The Cellar out in Maplewood.
Stepping out of our vehicle we saw this in one direction.
And in the other…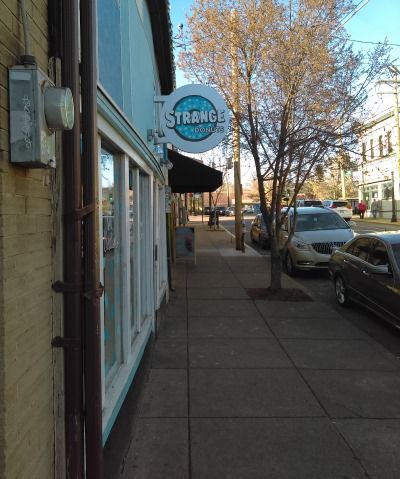 We had to stop in at
Strange Donuts
. Each of us bought a pastry for breakfast the following morning. (They were tasty.) There were also t-shirts on offer such as this hoopy one.
Donuts safely stowed in the car, it was off to The Cellar.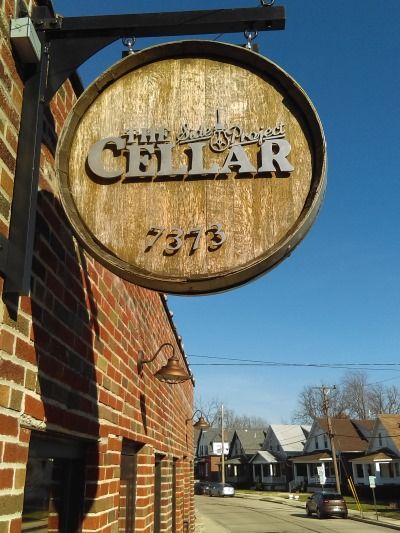 Side Project brews "Belgian-inspired" beers. Although I am not unfamiliar with Belgian styles, I really don't know a whole lot about them beyond some basics. The menu wasn't exactly Greek to me but it sure highlighted my ignorance. I ordered a grisette and when my friend asked what I was drinking, the conversation went thusly:
Friend: What did you get?
Me: A grisette.
Friend: What's that?
Me (looking at menu): A brett-fermented farmhouse ale aged in oak.
I'd heard of the grisette but had no idea what it was. And nobody else
really knows
either as descriptions of it prior to its recent revival here in the States have apparently all been lost. There is general agreement that it was a low-alcohol brew made for miners in the Hainaut region of Belgium at some point in the dim and distant past. Having had some, I can imagine those miners quaffing this stuff by the gallon.
It was light, slightly funky-tart, a little oaky, and just all-around tasty. However, the irony of me drinking a less than 12oz pour of a beer originally made for working stiffs costing about as much as the minimum wage in this country was not lost on me.
The Cellar was definitely a place for craft beer aficionados and fairly well-heeled ones at that. Look at the menu. Notice the serving temperatures listed as well as the level of toasting of the foedre used for aging the Foedre Fermier. Not quite the place for hoi polloi like myself.
Still, I really enjoyed my grisette as well as the rye my friend James ordered. There were two ice cubes in the glass and they were nearly flawless. You'd need some kind of laser to detect the imperfections.
The room itself was bright and had some nice rustic charm to it. The Cellar was also the second place in a row whose men's room had but one single solitary toilet.
We made it to the hotel, which was located in a light industrial area, only to find that not enough rooms had been booked and that most of those that were were not yet ready. A real charley foxtrot but also not really that big of a deal. The food, drink, and company more than made up for it.
Once things were sorted, we hit the road back into the city for dinner at
Iron Barley Eating Establishment
. We had a short wait for a table and so we settled at the bar. I ordered a Zwickel from Urban Chestnut although I was impressed that there was a beer engine back there and it foreshadowed our last stop of the night. Someone else who was waiting struck up a conversation with my friend Randy. He told the gentleman that we were from out of town and looking forward to hitting Pappy's Smokehouse the next day. Randy's interlocutor remarked that there was a new barbecue place in town, a pretender to Pappy's throne, and that their smoked salmon was fantastic.
For dinner I had about an entire pig's worth of ribs perched atop a bed of braised sauerkraut. Quite tasty. I noticed that the menu also offered smoked salmon. A pattern was developing here. Smoked salmon was seemingly quite common. I sampled some toasted barley and it too was delicious. The place reminded me of The Weary Traveler here in Madison though the tavern side of things was smaller. And it was more ragged but not in a forced or kitschy way. I will add that the waitress was wonderful and managed to rattle off a list of what seemed like a dozen specials with ease. Very impressive. The water closet had but one commode. I don't know how much a "Jethro sized" vessel holds, but you could get one of soup.
The neighborhood that Iron Barley is located in was...distressed? It wasn't bad in the sense of there being drug dealers and prostitutes on every corner but there were a lot of vacant buildings in the area. The street was lined with these two-story apartments and just about every other one was boarded up. I didn't see any broken windows nor graffiti, though.
For a nightcap it was off to
Civil Life Brewing
. It was tucked away off of an arterial street and had a nice old-time tavern look about it.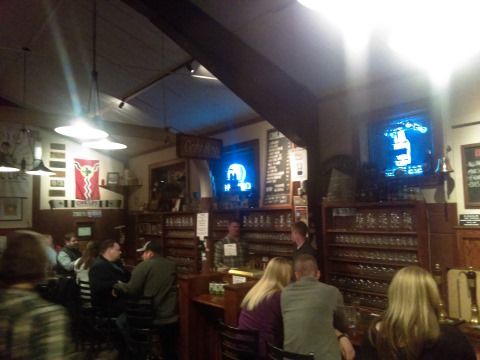 My comrade Charles was especially keen on Civil Life as they specialize in beers of the British Isles. He had lived in England for a spell where he acquired a taste for milds and ESBs and has a hard time finding versions of these beers here in the States that match the taste of those he had in their homeland. According to him Civil Life gets as close as you can this side of the Atlantic.
Full English pints were available but also half pints for $2.50. It was a steal especially considering how tasty the beer was. I had a British Bitter.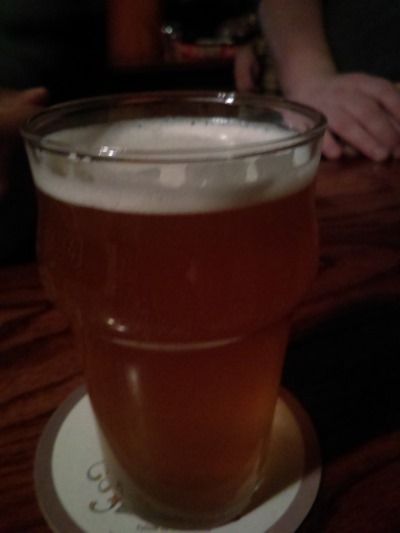 Cracker and caramel on the malt side with herbal, almost medicinal, hoppiness. Simply tasty. I sampled Charles' ESB and it to was great.
And, yes, the restroom had but a lone toilet. St. Louis regulations must stipulate 1 toilet per 300 people because Civil Life is not small. There's the main bar area with a dart area in back and more room upstairs. Plus there's seating outside to boot. There must be long lines during the summer.
Civil Life closed at 11:00 and we were on the road back to the hotel by then.