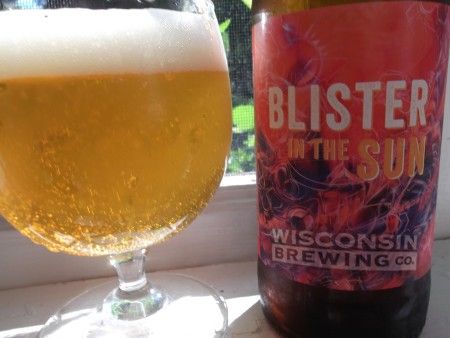 Blister in the Sun is Wisconsin Brewing Company's latest summer seasonal. Billed as an "India White Lager" this creation of Kirby Nelson's minion Clint Lohman takes the Belgian wit, adds more hops, and then lagers it. When I first heard of the brew I recalled that Coney Island did something similar with their
Albino Python
. How would this creation compare?
I got a chance to chat with Herr Lohman a few years ago when he was Scott Manning's minion at Vintage. It was either a pre-Great Taste event or a Craft Beer Week one. I found him to be a very pleasant fellow and fun to chat with so I'm happy that one of his creations has been bottled and is being distributed throughout the land. It's also nice to see WBC innovate with lagers. In some of my more officious posts here I've opined that Nelson and WBC ought to stop trying to jump on the IPA bandwagon and instead take advantage of the presence of a brewmaster whose reputation is based on 30 or more years of lager brewing. They've split the difference here with a lager whose style is prefaced with the dreaded "India".
Blister in the Sun is a spin-off of the Belgian wit. The witbier (or white beer) is a wheat ale known for being light on the hops and instead having a flavor that highlights coriander and orange peel. Lohman's creation is light gold/deep yellow in color which seems to be a bit darker than your average witbier. Blister is rather clear also unlike a traditional witbier. I presume the beer's clarity is due to the lagering process as opposed to an absence of wheat. My pour got a foamy white head which lasted for quite a while. The brew is quite effervescent with lots of bubbles going up. A very pretty beer to be sure.
The India in this India white lager was quite apparent in the nose with grapefruit bitterness from the Amarillo hops being quite prominent. There was also some coriander and a bit of bready sweetness to be had as well. With Blister being 7% A.B.V. I was expecting a fair amount of malt flavor and a body with a bit of heft. My expectations were met, for the most part. It had a medium body and there was definitely some bready malt flavor to be had but it undergirded more grapefruit hop bitterness as well as the coriander and the mellower fruitiness of the Nelson Sauvin hops. The orange peel tasted much sweeter than I anticipated as it blended with the malt to provide some contrast to the hops.
The beer finished fairly dry with the citrus hop flavor becoming more herbal and the typical clean lager taste.
I chatted with Scott Manning over at Vintage not too long and he said that Lohman had a real affinity for the Amarillo/Nelson Sauvin combination during his tenure there so he wasn't surprised by Blister in the Sun's use of these hops. They contribute lots of citrus and fruit flavors which taste quite refreshing on a hot summer day but also belie the fact that this is a fairly big beer at 7% A.B.V. You'll want to sip this stuff in the shade instead of quaffing in quantity.
Having lectured you about how and where to drink Blister in the Sun I shall say that I found it much tastier than I thought I would. India anything beers are a turn off for me because of over-hopping. While the hops are certainly prominent here, they are not completely overwhelming and do allow the other flavors of the beer to come through instead of doing a blitzkrieg attack on my tongue. I also appreciated how the coriander and grainy flavors provided contrast to the hops. Blister in the Sun is the aestival version of a barleywine in winter – a heartier beer to sip while enjoying the weather of the season.
Junk food pairing: Pair Blister in the Sun with spicy foods like Jalapeño Cheddar Chex Mix or Lay's Sriracha Potato Chips.
Labels: Beer, IPL, Wisconsin Brewing Company, Witbier