Back on 12 July Kirby Nelson, Mike McGuire, and the rest of the Wisconsin Brewing Company crew got out from behind their fancy computerized brewing equipment and put some craft into their craft beer. The occasion was Depth Charge, a new annual event at the brewery where the order of the day was to make a stein beer or "stone beer". Cast your mind back to the plight of the medieval brewer who didn't have stainless steel steam jackets. Instead she had wooden vessels that couldn't withstand direct heat. How to boil the wort? The solution was to heat rocks and put them into the brew kettle.
A stein beer isn't a style of beer but rather descriptive of a brewing method just like the more common lagerbier/lager beer. In this case Nelson was brewing a Scotch ale. I've never had a stein beer before although Mark Duchow of Sweet Mullets Brewing Co. in Oconomowoc brewed one about three years ago. Putting red hot chunks of granite into wort is reputed to produce a brew that is smoky and sweet which seems an apt description of the Scotch ale.
McGuire told me that the plan had originally been to use curling stones but that they were unable to withstand the heat and disintegrated in a test fire. Replacements were hastily found and you can see them being heated above. It was McGuire who drove the telescopic fork lift that carried the stones to the vat-in-waiting.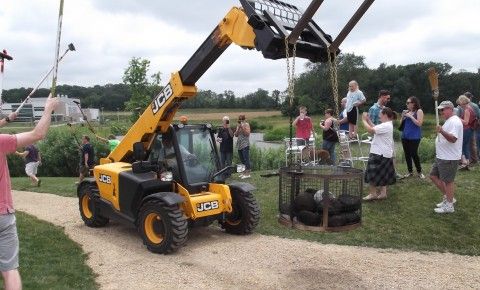 I'm not sure why curling stones were originally chosen. Perhaps someone at WBC was a curler or it simply seemed a good symbol of our boreal traditions. Whatever the case some curlers from the Madison Curling Club were present with brooms in hand to keep us riff-raff away from the hot stones. And, with the object being the brewing of a Scotch ale, a group of bagpipers were also on hand to regale the stones on their journey to the wort.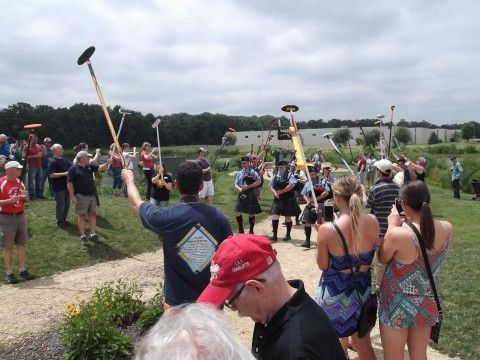 Nelson, like McGuire, was clad in lederhosen but he was perched on a rising platform along with a couple of other WBC folks. And a flintlock pistol or two.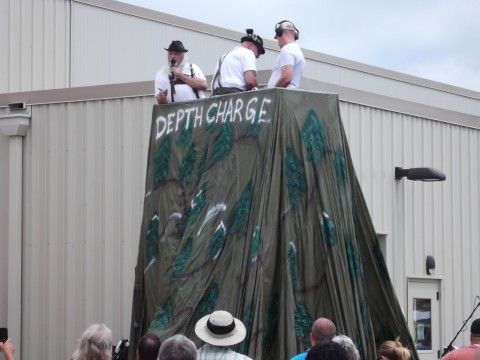 After a couple pistol shots and some admonitions to the crowd to stand back, McGuire lowered the rocks into the kettle.
No rocks exploded and no bystanders were scalded by the wort. Once the luscious brown liquid was reduced to a simmer we were allowed near the kettle. It smelled fantastic- full of smoky caramel goodness.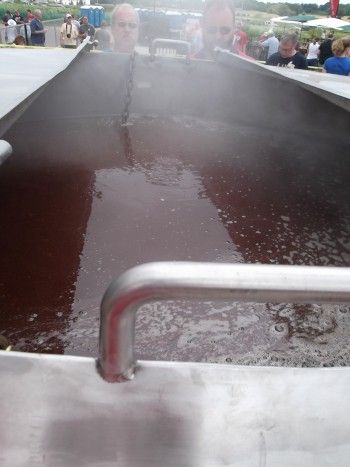 Patrons were allowed to reserve bombers of the finished brew for $20 a pop. They're due in October.
Depth Charge is to be an annual event and Nelson said that next year he'd be making a doppelbock steinbier. It looks to be a fun event and potentially a replacement for the bockfest that he hosted at Capital for many years. Instead of throwing chub from the roof while perched on a dinosaur, Nelson can emcee as heated stones are dropped into a brew kettle. The day also featured music with John Dee Graham taking the stage at 2.
And of course there was plenty of beer to be drunk while lounging beside the retaining pond. Blister in the Sun, their new India White Lager, was to be had along with what was touted as a special fresh batch of Big Sweet Life, Nelson's traditional maibock. The Dulcinea took a shine to the former starting at around 11:00 that morning. Inaugural Red was also on tap. If the shelves at Woodman's were anything to go by, this beer, developed by UW students, is selling well. I sure hope so because I heard a rumor that WBC had gone through five years worth of money in only two. I also hope that this is pure rumor mongering.
WBC has a nice semi-rural location and there was a goodly sized crowd on hand to witness the dropping of the stones. Many people brought their children and a few brought picnic baskets with them. While the place lacks the Old World bier garten feel of Nelson's old stomping grounds in Middleton, it certainly had that wonderful neighborly social vibe that Nelson sees his brews as being the perfect complement to.
Labels: Beer, Brewing, Stein beer, Steinbier, Wisconsin Brewing Company