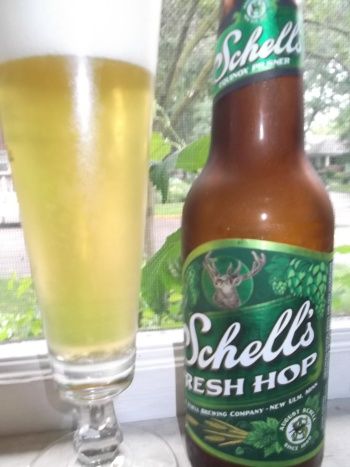 Schell began billing itself as a "German craft" brewer last year. I've never encountered an explanation for the rebranding effort but I've always assumed it was partly a response to the Brewers Association declaring that Schell was
crafty but not a craft brewery
a bit more than a year before. I also assume that Schell was trying to stake out its own territory and differentiate itself from the hordes of craft brewers out there who pump out IPAs of various colors and strengths as if they were desperately attempting to resurrect a defunct style.
This is certainly not to say that Schell is incognizant of trends. With millions of ironically mustachioed men out there gleefully calculating on their iPhones just how many moles of humulone are in a bottle of 3 Floyds Alpha King, the fetish for hops just cannot be ignored. Bowing (perhaps) to the tyranny of the minority and, I would imagine, a desire to give new ingredients a try, Schell developed the Fresh Hop series. Fresh Hop beers are pilsners brewed to showcase a particular variety of hop with the cones entering the brew kettle no more than 48 hours after they've been harvested. To date newer varieties of hops have been utilized. The initial Fresh Hop came out in 2012 and featured Citra hops with Mosaic being featured the following year.
Last year's batch
put Equinox hops into the spotlight.
I was unable to find out exactly when Equinox was first grown but it was given its moniker only last year when it was decided by the hoppy powers on high that "HBC 366" was not a particularly sexy name. Having read about it a bit, it seems that Equinox is like the Swiss Army knife of hops – it adds aromas and flavors that are fruity, citrusy, floral, and herbal – basically every olfactory/gustatory quality a hop can have. Well, until an entrepreneurial farmer crosses the venerable hop with a corpse flower.
Fresh Hop Equinox, as you can see from my slightly out of focus photo, pours a brilliant straw color. It is as clear as a pilsner can be. My pour resulted in a fine pillowy white head that lasted almost the livelong session. (Not sure if this is because I drank quickly or if the head lasted a long time.) Fresh Hop was an effervescent brew with lots of bubbles making their way up the glass.
Perhaps it was because my Fresh Hop wasn't particularly fresh – not that it was very old either – but my nose didn't catch everything and the kitchen sink like I expected after reading about these Equinox hops. Descriptions made it sound like I'd take one whiff and be overwhelmed by a bouquet that included notes of every tropical fruit known to man. That did not happen. I did, however, catch a bright citrus scent as well as a mellower grassy one which I felt was a rather nice combination. All of these were present in the taste. But wait! There's more!
The citrus scent became more focused and made me think of orange, more specifically, mandarin orange according to my notes. I really enjoyed the floral notes that were present here too. Schell does a good job with pilsners, to my taste, as they capture very well the biscuit kind of flavors I prize so highly. No exception here. There was also a mild and slightly sweeter malt flavor here as well – think graham crackers. The carbonation added a bit of dryness. Fresh Hop finished as you'd expect a pilsner hopped with a Nobler variety like Saaz to finish – dry with a good dose of spicy/grassy hoppiness.
My glass had minimal Schaumhaftvermoegen as the foam quickly slid down the side of the glass and into the waiting arms of the beer.
Jace Marti and the folks at Schell have done a great job here with Fresh Hop. It's medium light body and rather modest (by U.S. standards, anyway) 5% A.B.V. make it suitable for having more than one in a session but so does the array of inviting flavors here. Being a lager, the malt component is clean leaving the Equinox hops to take center stage. They offer grass and citrus in the nose and then add those plus floral notes on the tongue. For the finish they mimic a Noble hop with a bit of spiciness. Fresh Hop marries Old World subtlety with New World brashness for a brew that is at once quite approachable yet also unpredictable.
Junk food pairing: if you still have any Fresh Hop drink it now before the 2015 hop crop is reaped. And do so with a handful of Blue Diamond Wasabi & Soy Sauce almonds. Fresh Hop's finish will complement the wasabi while the myriad of other flavors in the beer will both accentuate and contrast with these little umami bombs. It's like a party in your mouth.
Labels: Beer, Pilsner, Schell Brewing