The day before the
Great Taste of the Midwest
I stopped in at Buck and Badger as
Schell Brewing
was to be featured as was
St. Francis Brewing
. I was hoping to try some Schell's Starkeller Peach, a peach-laced Berliner Weisse, and their One Five Five, a red lager brewed in honor of the brewer's 155th anniversary. If Arminius, their hoppy lager, was available, then all the better.
From what I can tell, Starkeller Peach sold out within about two hours after arriving in Madison. I was quite surprised by this as the previous Noble Star brews were around for a while after hitting shelves here. Apparently people got all fired up over the presence of peach and – BAM! – they snagged up every bottle before I knew it. The succeeding release in the series, Cypress Blanc, was still on store shelves last time I checked. This bodes well for me as long as there's no peach in the next release.
The Great Taste's stellar reputation rests, in part, on the fact that they require brewers to attend and represent their beer. While this is good and pure, I've rarely had time to chat with brewers at the Great Taste for very long. There's usually a thirsty horde behind me seeking suds. That's what makes these events the day before so nice. You can corner a brewmaster and have an honest chat of, if you're lucky, a few minutes. Brewmaster Jace Marti was at Buck and Badger last Friday and I borrowed his ear for a while, I can tell you.
I began by asking him about Schell rebranding itself as "German craft". I have
speculated
here that it had to do with the Brewers Association declaring Schell to be "crafty" and not craft because of the use of adjuncts in Grain Belt. Marti confirmed this. But he also said that Schell takes their German heritage seriously. They seem intent on differentiating themselves in the microbrew world by exploiting and innovating German brewing traditions rather than going all IPA all the time.
While I'd hoped to taste Arminius, an extra hoppy lager, there was none to be had. In fact, I don't recall ever having seen it here in Madison. Marti or his cohort told me that it had been discontinued. It never caught on, they believe, for marketing reasons. On the bright side, they brought Starkeller Peach.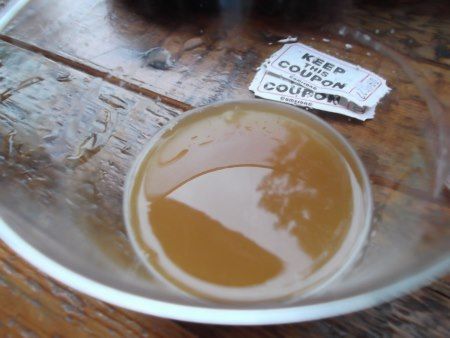 I guess you could describe it as an imperial Berliner Weisse aged with peaches. (Truth be told, I didn't know it was 7%+ A.B.V. until I looked it up just now.) It was full of sour peachy goodness and I poured myself multiple samples. There were also bottles of Cypress Blanc, a Berliner Weisse/American pale lager hybrid with brettanymyces and hopped with Hallertau Blanc hops. It was potent too at 7.4% A.B.V. (No wonder I was so hungover the next day.) This was light, tart, and oddly fruity for not having been aged with fruit. Good stuff.
Marti told me that the next Noble Star release is going to be called Apparent Horizon, a rye Berliner Weisse. Rye is for me what peach is for the Madison Beer Advocate crowd so I'm really looking forward to this. I politely asked Marti to bring back Emerald Rye and told him that I adored
Chimney Sweep
, a rauch dunkles. Marti revealed that he'd lived just outside of Bamberg, Germany, home of the rauchbier, for a couple years and he recalled wander into town when he had time for some fine smoke beer. This provoked an instant mancrush on my part. I turned green with envy. Marti expressed a preference for Spezial over Schlenkerla and also noted that rauchbiers tend to get smokier over time. I.e. - they are much less smoky when you're in Bamberg drinking them fresh from the barrel as opposed to opening the bottles you get at the store.
Jace Marti was a swell guy and I recommend chatting him up if you get the chance. You could hear the love he has for his job as he described the restoration of the cypress aging barrels Schell uses for the Noble Star beers. He was quite proud of the beers he made and of working within the German brewing traditions that have informed Schell since the brewery was established in 1860.
At some point I stopped pestering Jace Marti and joined my friends. Sadly there was no One Five Five on tap but I did try Schell's Cave Aged Barrel-Aged Lager which is a dunkles aged in whisky barrels. It was outstanding. A fairly big beer at 7.7% A.B.V. but not a leviathan with flammable fumes emanating from your glass. The roasted malts melded with the whiskey instead of being overpowered by them.
Also present was St. Francis Brewing. I have a bottle of Lust, their weissbier, at home waiting for me. Beyond this, I have to admit I've never tasted their beer. But they brought some of their brand new lemongrass Berliner Weisse with them. Here it is being tapped.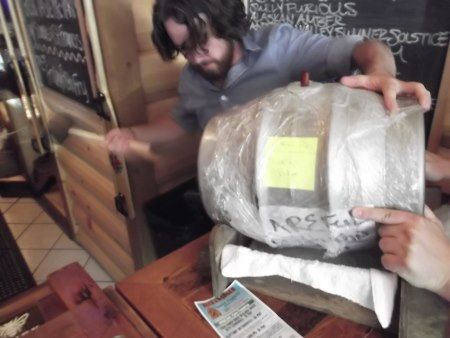 O'zapft is!

I chatted for a bit with a brewery rep who was also a certified cicerone. A charming fellow who gave me the skinny on St. Francis and their beers. The Berliner Weisse was the brewery's first attempt at the style. Unfortunately, champagne of the North it wasn't. It was woefully undercarbonated which made me wonder why they'd brought it. On the other hand, it was light and refreshing and I could certainly see this being a great summer brew with proper carbonation.
From Buck and Badger it was off to The Capital Tap Haus where the Capital crew would be offering various and sundry brews made especially for this pre-GTMW party. Sadly, none of my photos from the Tap Haus were in focus. There was a rye pilsner on offer which was tasty despite not having been lagered long enough. The chocolate peanut butter stout was also tasty. Just enough peanut flavor. I also got a glass of Vacation Request, a rye ale that is hopped with Lemondrop hops, a new variety. This beer is going to be bottled so look for bombers soon. It was tasty. The rye spiciness was moderate but noticeable. It was light and refreshing. Not too hoppy. Balanced.
My former co-worker Doug, he of
OverServed
fame, was there. I got to chat with him for a spell which was nice because I hadn't done so since I started my new job. He is good friends with Ashley Kinart, Capital's brewmaster, and so I got a chance to speak with her for a while as well. I opined that the rye pilsner should be an annual. Of course I pleaded with her for a rauchbier. While one is not forthcoming, she did suggest a tour of the
Weyermann
malt factory in Bamberg and she thought it was a cool experience. So that's on my bucket list now.
My friends and I stopped at the Caribou for a nightcap. It had been years since I'd been there. The jukebox was one of those fancy touchscreen deals and the taps had changed too. And there was no Ruthie. (Does anyone know if she's still around?) But really, The Bou was basically the same as it ever was. I do believe that we had Central Waters
Summarillo
which was quite tasty for a beer with "India" in its style's name.
Labels: Ashley Kinart, Beer, Capital Brewery, Great Taste of the Midwest, Schell Brewing, St. Francis Brewing