Witness a machine turn coffee into pointless ramblings...
23 April, 2014
Lagers in the Craft Beer Ghetto and Other Brew News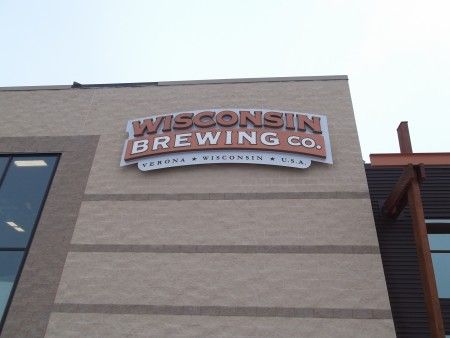 Madison Craft Beer Week
begins in nine days but The Dulcinea and I began celebrating the annual event last month with a trip to the
Wisconsin Brewing Company
to watch the state's brewing intelligentsia watch as Kirby Nelson's fancy new brewhouse did all the work in whipping up this year's Common Thread. For 2014 we're getting a Bohemian Pilsner made with Sterling hops instead of the traditional Saaz. It was my first visit to the new brewery and it was mighty impressive.
We arrived around 10:30 that morning only to find that the work was done. The brewers gathered from around the state were instead milling about and taking turns peering into the mash tun like expectant fathers while tour groups wandered amongst the stainless steel forest. We settled into our seats and had some beer. After an Amber, I tried the Porter Joe, their porter infused with coffee, and it was fantastic. I believe it was originally brewed as a one-off for some event but it went over well enough for another go round. It has a very nice balance between the roasted malt and coffee flavors. It's balanced and drinkable.
Here's Scott Manning from Vintage being chatted up:
And here's the brewers all lined up for their photo op:
This is Kirby test brew setup.
For a fee, you can brew a beer with Kirby on it and then invite all your friends to the tap room and enjoy it. It sounds like fun but I'd probably brew something with rye, end up with a congealed mess, and have Kirby yelling at me for hours as I cleaned it.
The tap room was expansive.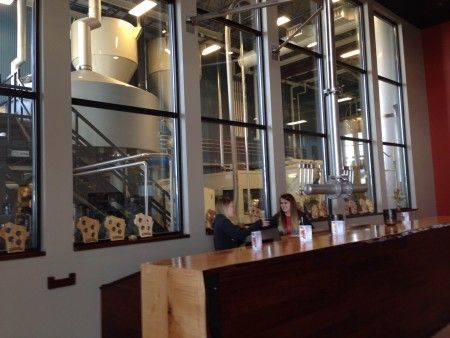 With its vaulted ceiling and all of the windows looking into the large brewhouse, it had a very industrial feel as opposed to the nice, comfy atmosphere you find at your local tavern. But it's a tasting room and not a contender for third place for locals, I suppose.
We got back into Madison a little after noon so it was off to
Next Door Brewing
for a nooncap.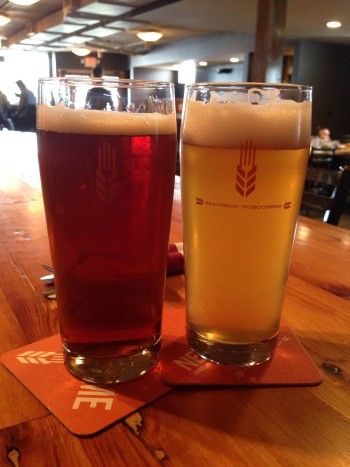 I cannot recall what The D ordered but I went with the gose and it was delicious. A bit heavier on the salt than the previous takes on the style I've had but it was still quite enjoyable and very refreshing. I intended to return a few days later to get a growler of it but the brewpub's website didn't list it. Hopefully it'll return in the summer.
Getting back to Craft Beer Week, I feel rather underwhelmed looking at the schedule. I also feel saddened that lagers are apparently the Craft Beer Week orphans . Witness the
"Lagers: An Overview"
event.
It's easy to think of lagers as the bland and flavorless over-produced light beer domestically produced, but they can range anywhere from new and exciting styles like the hoppy India Pale Lager to the traditional deep, rich maltiness of a doppelbock. We'll have some of our favorite examples on hand for you to try.
It seems that every other event that week will be about barrel-aged imperial stouts, IPAs, and sours brewed with bacteria recently extracted from the deepest, darkest depths of the Congo and so lagers are thrown into the ghetto and get a token event. I am reminded of a recent blog post by
Lew Bryson
(a man on a crusade to promote session beers) in which he was critical of craft brewing groupthink:
I'm actually getting more concerned about the lame groupthink and sheep mentality represented by "session IPA," especially since it's Sierra Nevada. I really expected something better from a brewer that has produced an iconic, leading Pale Ale, Barleywine, American Stout. I expected a brilliant Bitter, a fearless Mild. But we got a following beer from a brewer that's a leader. I expect better.

I expect better from the whole industry. I should be happy on Session Beer Day, and to some extent, I am! It's great, we're seeing a LOT more session strength beers from notable brewers, and more and more of them at brewpubs. But...an unending parade of "session IPA"?

GOD DAMN IT, AMERICAN BREWERS! You're BETTER than this! And I'm not just talking about session. American craft brewing has become a pathetic nation of followers. Look, a sour sold, let's make one! Look, session IPA sold, let's make one! Look, limited edition beers sold, let's make one! I weep for you. Truly. Show some balls, at least come up with your own name, like "fractional IPA."
Moving back to Kirby and Wisconsin Brewing, they now have a Maibock out called Big Sweet Life.
I've not had it yet but have been told it's a bit hoppier than the version Kirby brewed at Capital and perhaps slightly less sweet as well. Rumor has it that Porter Joe will be draught-only for a bit before being bottled later this year. Kirby apparently has a helles ready for release and is planning an Oktoberfest "with a twist". Lastly I'll note that Wisconsin Brewing Company has
inked a distribution deal
for the Chicago market. The distributor, Chicago Cluster, "blankets" the northern half of Illinois which means the brewery has a new market that is roughly double the size of its Wisconsin market. They seem to be on track of meeting their 250,000 barrel goal. Add in the Twin Cities and Wisconsin Brewing can become quite a regional brewer.
Tickets for the Great Taste of the Midwest go on sale 4 May at noon. There are some changes this year as detailed in
this blog post
. Ticket prices are up to $60, for starters. The Malt House and west side Vintage are new ticket outlets while the Tyranena tasting room is out.
I heard a few months ago that
River City Distributing
over in Watertown had bought the rights to various Polish beers and liquors from a Milwaukee area distributor and that the Madison area would see new brands on shelves. Neither store shelves nor the company's website reflect this. Has anyone else heard about deal? Hell, maybe there's an Okacim IPA to be had.
The winners of this year's
World Beer Cup
were announced earlier this month. Talk about groupthink – check out the categories with the most entries:
3rd) Wood- and Barrel-Aged Strong Beer
2nd) American-Style Pale Ale
And 1st place goes to...American Style India Pale Ale!
I am shocked. Shocked!
Wisconsin breweries brought home some medals:
Sprecher Shakparo – Bronze in Gluten-Free Beer
Sprecher Black Bavarian – Gold in German-Style Schwarzbier
Central Waters' Sixteen – Gold in Wood- and Barrel-Aged Strong Stout
Vintage McLovin – Silver in Irish-Style Red Ale
Oh, and Miller won a couple of awards too.
Some new and newish brews: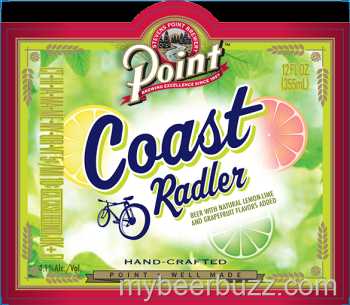 While it appears to be a flavored-enhanced beer instead of a true radler, it does come in at a sessionable 4.1% ABV, quite a bit lower than most American drinks labeled "radler" and "shandy".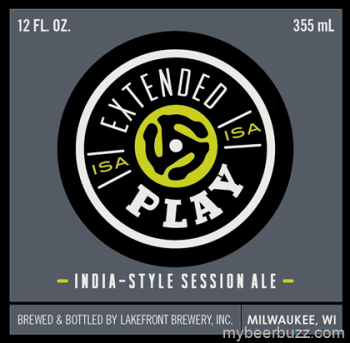 Don't tell Lew Bryson but Lakefront is coming out with a session IPA called Extended Play. And the latest entry in their My Turn series is Johnson, a DIPA.
Milwaukee Brewing Company has introduced Litta Bitta, a so-called white IPA, brewed with lemongrass. White IPAs, as far as I can tell, are very hoppy Belgian wit beers but the monikers "IPA" and "India" sell so everything has to be an IPA variation these days. Presumably we can look forward to an IPK – India Pale Kölsch – because, well, it has more hops and will sell like gangbusters.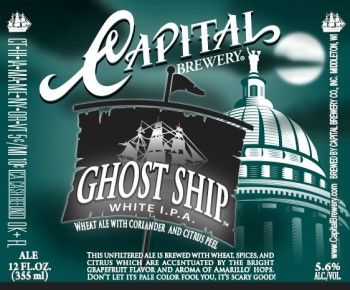 I mean, just ask Capital. Their fourth IPA is Ghost Ship, a white IPA. It has coriander, orange peel, and lots of hops. I tried one of these last weekend. It tasted like an imperial witbier at first with prominent coriander and orange bitterness and then the hops kicked in and ruined it. Craft brewers should stop adding more hops to everything and then calling it an India Pale XXXXX.
Also in Capital news, a Twitter
tweet
shows brewer Ashley Kinart whipping up a test batch of her new beer. ETA is June. Anyone know what kind of beer she has in mind?
The Hop Garden is a hop farm just south of Madison that has also gotten into the brewing game and this is the result. It's brewed by Page out at House of Brews and is available in stores now. Robin Shepard of
Isthmus
profiled
The Hop Garden and its owner Rich Joseph a couple months ago. This pale ale is his first brew and next comes an imperial IPA. Quelle surprise!
The latest from Schell's Noble Star line is North Country Brünette which the brewery describes as a "Märzen style Berliner Weisse". I've never heard of such a thing although the brewery claims it's a defunct style. (Where's Ron Pattinson when you need him?) My understanding is that it's a Berliner Weisse in style but with more of a Märzen grain bill. Sehr interessant!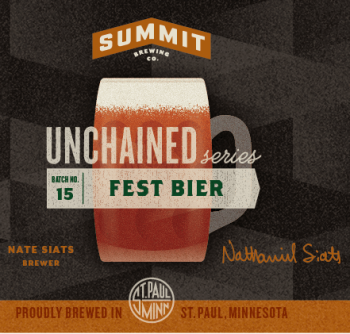 This beer is out and may very well be gone already. I had it on tap somewhere and it was excellent. Unchained is Summit's limited edition brew series and this was, sadly enough, the first lager in the series. The brewer describes it as being "modeled after a cross between an Oktoberfest bier and a Wiesn bier". Wiesn is, from what I can tell, a lighter take on the Oktoberfest. If you see this in stores, get it. Or just let me know about it and I'll buy it.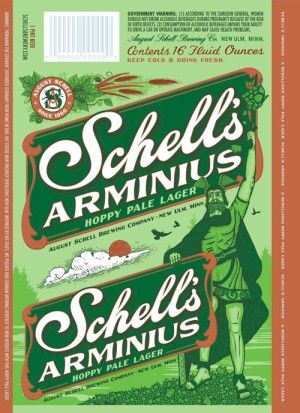 The latest hoppy brew from Schell. I believe this will be released next month. It's described as "Combining the hop profile of west-coast American IPA's with traditional German brewing techniques..." German, American, and French hops used in a double dry hopping. Sounds like a very hoppy pilsner. Schell gets credit from me for not calling it an India Pale Lager.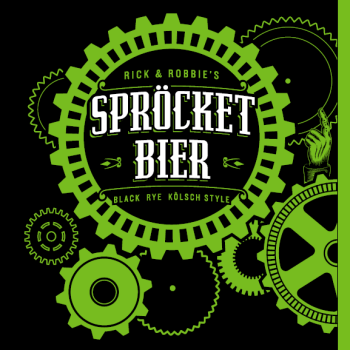 This is an entry in Stone's Spotlight Series which features brews resulting from a brewing competition held within the company. It's a rye Kölsch with black malt and extra hops. Intriguing. But was it lagered? Probably not. Too bad it's not being distributed in Wisconsin. However, there will be some in Illinois.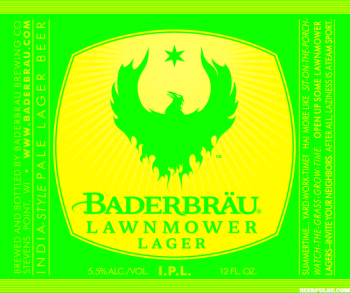 Speaking of Illinois, Chicago's Baderbräu has a new brew called Lawnmower Lager which is an IPL (quelle surprise!)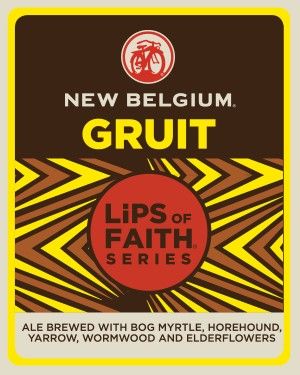 New Belgium's Lips of Faith series now has a gruit. I am looking forward to trying this stuff but haven't seen it around Madison.
On the New Glarus front, Yokel and Hometown Blonde are returning. Berliner Weisse is the next Thumbprint brew and we can look forward to bourbon barrel kriek, the IIPA, and Cranbic later in the year.
Homebrewer Jim Goronson is looking to open
The Parched Eagle Brewpub
in Middleton. I talked to Goronson about a month ago and he said he's looking at opening in November. I believe Goronson is looking at the Clownin' Around party supply store at 6301 University Avenue for his location.
Get ready for the Sunny Rest Beer Festival!
"Nudity required at the beer festival area". I love how they Photoshopped those beer glasses into the hands of those women. No doubt there will be dozens of young gals at the festival just like those on the poster.
||
Palmer, 4:23 PM
||
link
||
(1) comments
|
links to this post


22 April, 2014
Deus in Machina: Transcendence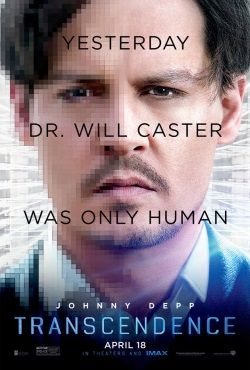 Like many people, I spent Sunday reflecting on a man who dies and then is resurrected. Unlike Christians who celebrated the death and rebirth of one incarnation of their tripartite deity, I was at my local IMAX cinema watching Johnny Depp's death and resurrection in
Transcendence
.
Transcendence
is the directorial debut of Wally Pfister, a cinematographer best known for his work with Christopher Nolan. Pfister surely knows how to lens a movie but I recalled the last time a DP whose work I respected tried his hand at directing -
Lost Souls
. Janusz Kaminski took a break from shooting Steven Spielberg's film to make this mediocre horror flick. Would Pfister fare any better?
The movie begins with a brief prelude featuring a man who we will come to know as Max wandering the streets of a city that has no electricity. Streetlights are dark, broken cell phones litter the ground, and a laptop is used to prop open a door. He makes his way into a backyard where he kneels before two sunflowers and begins to eulogize two of his friends.
Flashing back a couple years, we are introduced to Will (Johnny Depp) and Evelyn Caster (Rebecca Hall). Will is an artificial intelligence researcher and his wife is trying to get him motivated to get to a conference where potential funders for his project can be found. Will is the dreamer type while Evelyn is more pragmatic. He focuses on getting a computer to be self-aware, much to the detriment of bathing and sartorial choices, while she plays the mom and gets him to change into something presentable.
After his speech, in which he admits to essentially "playing God", Will is shot by a member of a group called RIFT (Revolutionary Independence From Technology) which launches attacks other AI research labs at the same time. Will survives only to discover that the bullet that he was shot with was laced with polonium and he is fated to die a slow, painful death from radiation poisoning. Evelyn recalls that Will had uploaded the "consciousness" of a monkey into his super-mega quantum computer and decides to upload Will's into it so that he may live on. Max questions this decision and whether the transferring the electrical activity of Will's brain into a computer will create something that can fairly be called Will.
At this point the movie has introduced a fair amount of interesting thematic ideas. What is consciousness? Is our humanity merely an admittedly highly complex series of electrical impulses? Unfortunately, we get a rather generic action/thriller. After Will asks to be connected to the Internet, Evelyn and Max have a falling out which leaves Evelyn to care for the electronic simulacrum of her husband alone. RIFT kidnap Max and learn of Will's transubstantiation. Meanwhile Will asks that he be connected to the Internet so that he can expand his capabilities.
With RIFT closing in, Evelyn moves to upload Will to the cloud via a satellite connection. Luckily there were no birds looking for a spot to perch and the consciousness of a human being is only a megabyte or so in size because she only had a couple of minutes to complete the upload. I wonder what file type the human consciousness comes in - .will?
With Will living on somehow on the Internet, he plays the stock market and makes tens of millions, if not more, for a company owned by Evelyn and then directs her to a small desert town called Brightwood where she is to build an underground data center where Will can live on and carry out his nebulous plan. The place ends up being massive with an even more enormous farm of solar panels powering the whole thing. Of course no one in the federal government at-large seems to notice that a very large computer laboratory is being built in the desert nor a vast amount of data traffic to and from some podunk town in the southwest. Maybe Will used IP6 and IANA never noticed.
Once fully armed and operational, Will miraculously becomes an expert in nanotechnology and begins experimenting on some of the local contractors making them into superheroes with incredible strength the and power to regenerate. In fact, Will is so goddamn good, he can grow a copy of his old body in the lab. Will has become a god and his ability to monitor Evelyn's limbic system in real time so perturbs that she loses trust in him and escapes his clutches. She is captured by the FBI who joins forces with RIFT and Will's buddy Joseph, who also ran an AI lab, to make their last stand for humanity. They get themselves some machine guns, a mortar, and a couple howitzers. Oh, and a computer virus which take out Will's systems as well as every other computer system on the planet. The plan calls for Evelyn to be infected with the virus so that, when Will uploads her consciousness into his system, it becomes infected. Bullets and explosives don't cut it against nanobots and the augmented contractors. It all comes to the bad ass RIFT lady threatening Max's life to get Will to upload the virus himself and end it all.
Perhaps it's because I work in IT but I just can't look beyond the techno-asshattery in this movie. Here the Internet is essentially magic instead of being a bunch of computers connected together. You just take a technology, add the Internet and – voila! – you have a god-like power. During the sequence when Will is being uploaded to his quantum computer, we see that it is a process that takes weeks. His face is scanned and Will is recorded reading the OED so that his likeness and voice can later be used in the interface. This takes weeks yet, after this, everything is done is done lickety split. Where did Evelyn upload Will's consciousness to? You don't upload something to the Internet, you upload it to a computer on the Internet. The electronic Will can advance nanotechnology beyond our wildest dreams, can build his old wetware body from scratch but he can't advance solar panel technology beyond the point of needing a few square miles of panels?
Beyond the IT realm,
Transcendence
disappoints in other ways. For instance, the world is faced with the gravest threat it's ever known short of nuclear war and all that humanity can muster in its defense is a handful of anti-technology radicals, a few G-men, a mortar, and a couple howitzers?
Moving onto the acting, I have to say that this move was a colossal waste. Johnny Depp spends a short while at the beginning playing a bland genius before spending the rest of his time doing a mediocre HAL 9000 imitation. Morgan Freeman as Joseph just called in his umpteenth performance as the wizened mentor. There was nothing unique or animated about anyone's performance here. For the most part, people stood around watching Will's next move in a mixture of awe and fear. The story didn't help much. The scene where the simulacrum of Will comes alive in the computer was positively anti-climactic. There was no time to dwell on such a momentous occasion because we had to race to Will's apotheosis. Indeed, there was no time to dwell on much at all. Why bother to consider questions about the nature of consciousness or our relationship with technology when Max has to be kidnapped and solar panels have to be erected? I think more time was devoted to showing nanobots rebulding those solar panels destroyed by mortar fire than to considering the "big questions" posed in the opening minutes of the film.
Another example of this comes at the end of the movie. The fully-resurrected Will and Evelyn are lying on a bed dying. Will reveals that the electronic simulacrum was really the old Will and that he did everything in order to bring her dream of a better world to fruition. Awwww. While a nice, tidy way to end a love story, the whole revelation was a dud because A) the movie avoided discussing whether or not the thing that the characters considered to be Will could really be loaded onto a computer and B) Will and Evelyn's relationship wasn't developed enough. The script sets Will up as an Apollonian figure – and individual who uses the human capacity of reason to its full extent while Evelyn is the Dionysian figure – she's all about advancing or healing the whole of humanity and is emotional. Will's cold expressions and voice dominate his UI while Evelyn cries and gets angry. But these antipodean dispositions don't conflict or intermingle very much and so, when Will gives his confession, it didn't feel like it resolved much. Rather than a relationship tempered by opposing outlooks ending with a bang, it limped to a conclusion with a whimper.
Transcendence
reminded me of many cinematic adaptions of Philip K. Dick novels. Take the interesting concepts and then ignore them as ideas and instead use them as springboards for excitement, action, violence, and fresh fruit!
||
Palmer, 3:30 PM
||
link
||
(0) comments
|
links to this post


03 April, 2014
Alles Gute zum Geburtstag, Piper!
Our Kätzchen is now a Katze. Here she is a day or two old.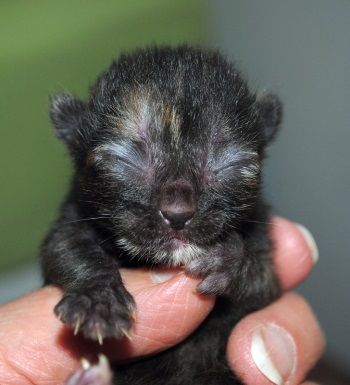 And here she is today on her first birthday.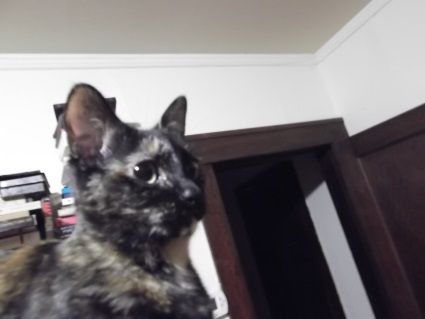 Unfortunately I wasn't able to get a decent snap this morning. It'll just have to do. I suspect she'll be spending her birthday sleeping, fighting with Marilyn (our other Katze), and causing general mayhem with toilet paper, facial tissue, and the like.
||
Palmer, 8:47 AM
||
link
||
(0) comments
|
links to this post


31 March, 2014
The Search for General Tso
This looks amusing. Have the filmmakers solved the mystery of General Tso's Chicken?
The Search for General Tso - Trailer from Wicked Delicate Films on Vimeo.
||
Palmer, 9:14 AM
||
link
||
(0) comments
|
links to this post


07 March, 2014
Remembering Stanley Kubrick
It's been fifteen years since Stanley Kubrick died. (Where does the time go?) Here's a tribute by one Alexandre Gasulla.


||
Palmer, 3:11 PM
||
link
||
(0) comments
|
links to this post


Rocket cat, burning out its fuse up there alone
Leave it to the Germans to turn Katzen into
medieval siege weapons
.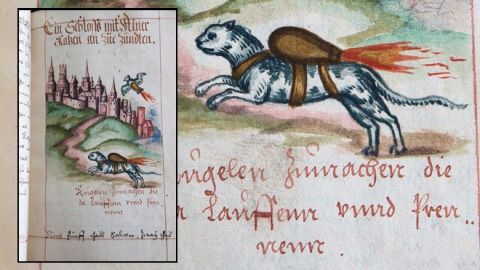 You're a 16th century German prince plotting to crush a peasant rebellion, or perhaps you're leading an army against the Ottoman Empire or looking to settle the score with a rival nobleman. What's a guy looking for a tactical edge to do?

Bring on the rocket cats!

Fanciful illustrations from a circa-1530 manual on artillery and siege warfare seem to show jet packs strapped to the backs of cats and doves, with the German-language text helpfully advising military commanders to use them to "set fire to a castle or city which you can't get at otherwise."

"Create a small sack like a fire-arrow .Iif you would like to get at a town or castle, seek to obtain a cat from that place. And bind the sack to the back of the cat, ignite it, let it glow well and thereafter let the cat go, so it runs to the nearest castle or town, and out of fear it thinks to hide itself where it ends up in barn hay or straw it will be ignited."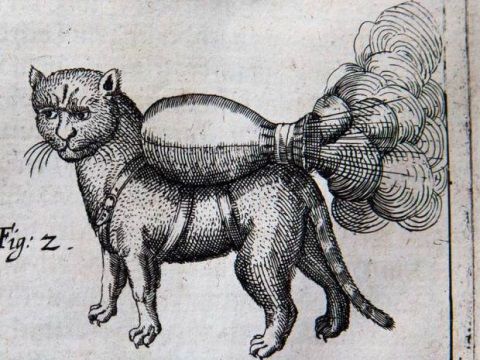 Sounds pretty ridiculous but according to
Wikipedia
, the Russians used anti-tank dogs in World War II and the U.S. military even trained some of their own.
||
Palmer, 2:46 PM
||
link
||
(0) comments
|
links to this post


06 March, 2014
Mmmm...Kasza Jęczmienna po Staropolsku
With the weather getting warmer, albeit slowly, I'll be transitioning to lighter fare from dishes like this.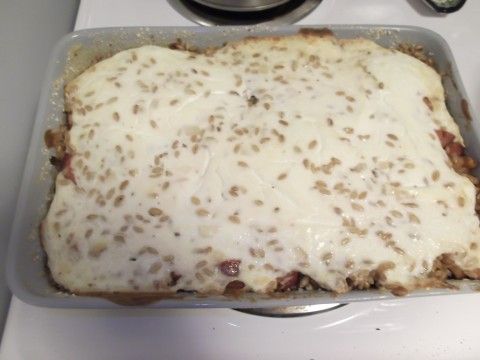 This is a Polish casserole called
kasza jęczmienna po staropolsku
which is apparently translates, more or less, as Old Polish Barley, Bean, and Sausage Casserole. It's a tiered affair where layers of barley alternate with those of a mix of navy beans, kielbasa, onion, a bit of tomato sauce, and plum jam. Well, it should have been plum jam, anyway. Plum is apparently not very popular and I couldn't find it at Woodman's when I was shopping for this recipe. (I found Smucker's plum jelly a week or two later.)
Underneath that sour cream baked-on goodness, you get this:
Although tasty, I screwed up and made too little of the bean-kielbasa mixture. There's only so much hot sauce can do against an onslaught of barley. Next time it'll be double the mix.
||
Palmer, 11:02 AM
||
link
||
(0) comments
|
links to this post


04 March, 2014
Happy Pączki Day 2014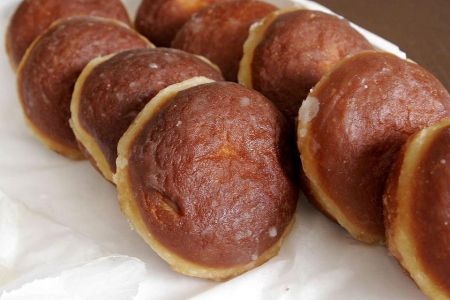 It being Fat Tuesday, Poles and those of Polish ancestry are celebrating by eating pączki, Polish filled doughnuts without holes.
Lane's Bakery
here in Madison has them today.
A few days I ago I listened to
podcast
from Polskie Radio about Pączki Day which was interesting. They have a show on this every year, in fact. Last year the hostesses decried the trend of baked pączki. This year they noted that rose hip marmalade is the traditional filling ("it has to be rose hip marmalade") and one of the women remarked that a paczek with custard filling is "truly not a paczek."
I also learned that pączki are nicknamed "angels' wings" and that folklore has it that, if you don't eat a paczek, you'll have bad luck the rest of the year. Oh, and Fat Thursday seems to be the big day for Poles to eat pączki instead of Fat Tuesday.
||
Palmer, 3:43 PM
||
link
||
(0) comments
|
links to this post


Fanning the Spark Kindled by the Whispering Embers: A Rauch Oktoberfest by Valkyrie Brewing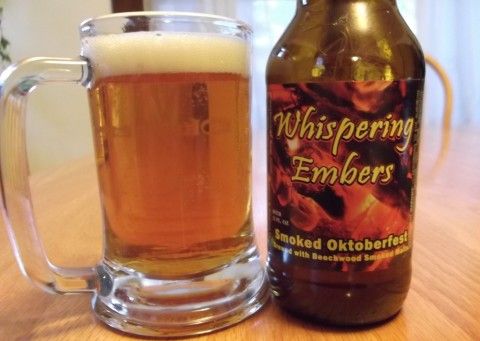 Back in January I first noticed that
Valkyrie Brewing
(formerly Viking) was distributing down here in Madison again when I saw a lone bottle of their Rubee red lager in the singles section at Woodman's East. The following week I saw four-packs there of two or three flavors. Then I discovered that
Riley's
carried a beer that Woodman's didn't -
Whispering Embers
. A quick trip to Riley's and I was hope with a four-pack.
Whispering Embers is a smoked Oktoberfest and, if the brewery's webpage is to be believed, it is released in September when it should be instead of in July when most other breweries are switching from their fall to winter seasonals. A rauch Märzen seems like a splendid idea to my mind. Märzen is the German word for March which was when many beers were brewed there back in the dim and distant past before modern refrigeration. After March it became too cold to brew so these beers were held in cold storage over the warmer months and thusly had a bit more alcohol in them than other brews. The emphasis is on the malt here.
When I poured this beer, I was rather surprised at the color. Don't get me wrong, it's a gorgeous gold but Märzens are usually darker and more copper in color. It was clear as glass with a smattering of large bubbles making their way up to the rather small head which lingered for a while. (I poured fairly aggressively to get a bigger head but failed.) Ooh, the aroma. That ham-like smoky goodness was most prominent and came first. It was joined by a bit of sweetness which reminded me of apricot.
That smokiness in the nose was also on full display in the taste. Despite the color I found that the beer had bready sweetness and stone fruit flavors which were in harmonious balance with the smoke. Valkyrie says they get the smoked malt in Whispering Embers from Bamberg, Germany, home of the rauchbier. The only German rauchbiers I've had come from
Schlenkerla
who also have a rauch märzen. Valkyrie's take on the style isn't as smoky as Schlenkerla's but the flavor is still much more prominent than you find in – using a local example – Karben4's smoked porter, NightCall.
The light color of the beer did translate into a lighter mouthfeel than your normal Oktoberfest and slightly less alcohol as well – only 5% A.B.V. It still had plenty of malt flavor but it lacks the toffee flavors of many Märzens and so went down more easily. You get a bit of herbal hop flavor as the beer reaches the back of your tongue which becomes more grassy and more prominent in the dry finish. These hop flavors at the end make a nice contrast to all the smoke and sweetness.
Whispering Embers is a fantastic brew. A tasty twist on the conventional Oktoberfest and even more positive alliterations. Wonderful on a chilly winter night, the beer's relatively light body would no doubt go well during the other seasons as well.It's malt forward and has plenty of smoky goodness. Plus there's a bit of hops for contrast and dryness in the finish. The only thing that could make it better would be some rye in the grain bill.
Junk food pairing: Whispering Embers pairs well with processed cheese food products with either salami or bacon.
As I mentioned above, Valkyrie used to be Viking Brewing. I toured the brewery a few years ago and you can read about that adventure
here
.
A couple weeks ago Robin Shepard of
Isthmus
wrote about
the return of Valkyrie to Madison's shelves. (Riley's has a wonderful selection, including bombers.) Reading this:
Lee still makes beer on nearly the same system that he self-fabricated from used dairy equipment in 1994... Valkyrie Brewing is located in a century-old building that's almost entirely concrete and brick, so all seasons present heating or cooling challenges, and that dictates Lee's brewing schedule. "Summers are hard because you have to fight the building; in the winter it's too cold to make ales," says Lee. Therefore, Lee focuses on lagers in the winter and ales in the summer.
...made me think that it's time to bring back the terms "microbrew" and "microbrewer". Why use the presence of adjuncts in your flagship beer to determine whether you're craft or not? If you built your own brewing equipment and brew lagers in the winter and ales in the summer because your building doesn't have modern HVAC to compensate, I think you are a "craft" brewer in a way that, say, Kirby Nelson at Wisconsin Brewing Company isn't.
Here's Valkyrie's brewmaster Randy Lee standing by one of his brewing vessels.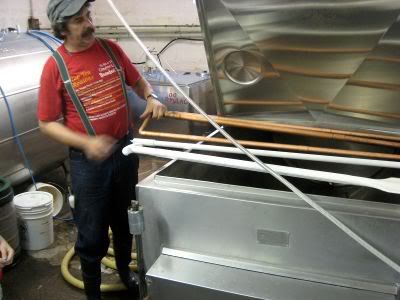 And here's Kirby doing the same.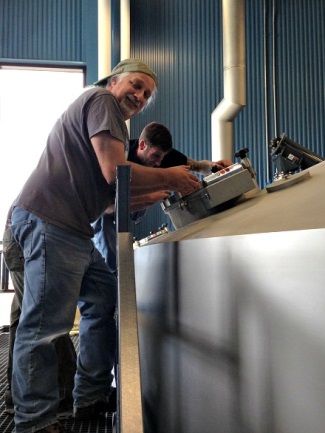 This isn't to disparage Kirby. I have been drinking and enjoying his beers for well over 20 years now.
However, there are connotations associated with the word "craft" that I think most people would agree don't apply to a table made of particle board and glue in a mega-factory in China. But what is more "craft-like": A) a table made out of solid wood in a small factory with robotic arms that move and cut all the wood with precision or B) an Amish carpenter with a workshop full of handsaws and a foot-operated table router where no two biscuit joints are exactly alike?
Randy Lee may be a craft brewer in my eyes while Kirby Nelson is a microbrewer, but they both make some great beer.
||
Palmer, 3:08 PM
||
link
||
(0) comments
|
links to this post