Last month I spent a little time in St. Louis. While there I got to sample some fine food, see the
tourist sights
, and
drink some of the Gateway
City's beers
.
Amongst the brewies I visited was
Urban Chestnut
and I brought home a 4-pack of their weissbier,
Schnickelfritz
. According to Wikipedia the name "is a Pennsylvania Dutch term of affection usually for young mischievous or talkative children". It is part of the brewery's Reverence series which consists of traditional style beers.
Urban Chestnut, founded in 2011, was one of the larger establishments I visited in St. Louis though not as old nor as large as Schlafly. Brewmaster Florian Kuplent cut his brewing teeth in Germany and so Urban Chestnut unsurprisingly offers plenty of German biers. But they also have a variety of other and newer styles on their roster. The Midtown Brewery & Biergarten was a nice spot to take in a brew on a sunny almost spring day.
In addition to the beer, the cans showed some reverence to old packaging styles with their pull tabs. My mind was immediately cast back to my youth and the pull tab chains in the workshops and garages of family and friends' fathers. (As well as the cans of Old Style my friends and I stole from our dads.) These were neo-pull tabs, however, as they removed the whole top of the can.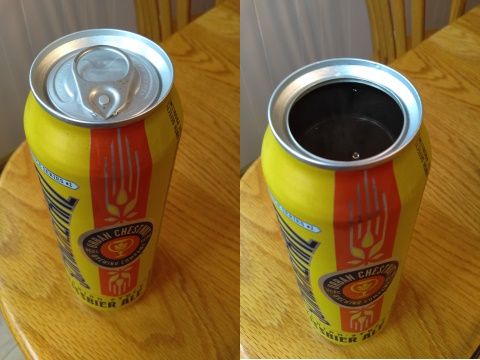 With my weissbier glasses still packed away in the basement, I ended up drinking from a plain mug.
Schnickelfritz was certainly traditional in appearance. It was a lovely light yellow and hazy. Sadly, the head was small and disappeared with some haste. There was a fair number of bubbles inside.
My preference in weissbiers is for more of an emphasis on those estery banana scents and flavors with phenolic clove and bubble gum taking supporting roles. Schnickelfritz did not disappoint as banana took pride of place on the nose with clove lurking in the background. I also caught the wonderful, toasty, smell of wheat. Not even having tasted it, the bier had me pining for warmer, sunnier days.
As with the aroma, the taste was full of that banana goodness with just a touch of clove and a hint of bubble gum. It had an eminently quaffable light body with a sizable wheatiness. There was a little acidic bite to it and a firm fizzyness.
The banana and wheat stuck around at the finish while that acidulous tang was heightened taking on a prominent lemony tartness. There was no
Schaumhaftvermoegen
to be had.
Schnickelfritz is a fine weissbier. But I'd expect nothing less than a bier from a Reverence series formulated by a brewmaster who trained in Germany. If Urban Chestnut distributed here in Madison this would definitely be in my refrigerator summer long. Light-bodied and a modest 4.8% A.B.V., it was still flavorful with plenty of my preferred banana taste while clove and bubble gum took back seats. A perfect balance, to my palate. Plus it was nice'n'fizzy. Simply wonderful.
Junk food pairing: In keeping with the reverence theme, pair Schnickelfritz with soft pretzels and plenty of warm cheese food product dip.
Labels: Beer, Hefeweizen, Urban Chestnut Brewing, Weissbier