Fearful Symmetries
Witness a machine turn coffee into pointless ramblings...
31 July, 2015
MIA - NaCl and Coriandrum sativum: Egon's Revenge from Next Door Brewing
Lazing On a Sunny Afternoon
30 July, 2015
A Little Light Beer: Where the Helles Summer? by Southern Tier
28 July, 2015
Aldo Leopold Invented a Bench?!
Gemütlichkeit on Monroe: The Freiburg Gastropub
27 July, 2015
A Little Bamberg In Madison
Labels: Beer, German bier, Madison, Restaurants, Schlelkerla
||
Palmer, 8:00 PM
||
link
||
(0) comments
|


George Hodgson + Pierre Celis + James Harrison = Blister in the Sun by Wisconsin Brewing Company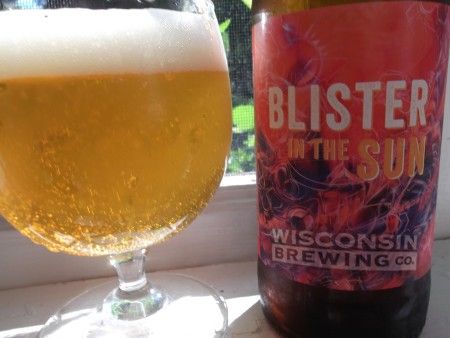 Blister in the Sun is Wisconsin Brewing Company's latest summer seasonal. Billed as an "India White Lager" this creation of Kirby Nelson's minion Clint Lohman takes the Belgian wit, adds more hops, and then lagers it. When I first heard of the brew I recalled that Coney Island did something similar with their
Albino Python
. How would this creation compare?
I got a chance to chat with Herr Lohman a few years ago when he was Scott Manning's minion at Vintage. It was either a pre-Great Taste event or a Craft Beer Week one. I found him to be a very pleasant fellow and fun to chat with so I'm happy that one of his creations has been bottled and is being distributed throughout the land. It's also nice to see WBC innovate with lagers. In some of my more officious posts here I've opined that Nelson and WBC ought to stop trying to jump on the IPA bandwagon and instead take advantage of the presence of a brewmaster whose reputation is based on 30 or more years of lager brewing. They've split the difference here with a lager whose style is prefaced with the dreaded "India".
Blister in the Sun is a spin-off of the Belgian wit. The witbier (or white beer) is a wheat ale known for being light on the hops and instead having a flavor that highlights coriander and orange peel. Lohman's creation is light gold/deep yellow in color which seems to be a bit darker than your average witbier. Blister is rather clear also unlike a traditional witbier. I presume the beer's clarity is due to the lagering process as opposed to an absence of wheat. My pour got a foamy white head which lasted for quite a while. The brew is quite effervescent with lots of bubbles going up. A very pretty beer to be sure.
The India in this India white lager was quite apparent in the nose with grapefruit bitterness from the Amarillo hops being quite prominent. There was also some coriander and a bit of bready sweetness to be had as well. With Blister being 7% A.B.V. I was expecting a fair amount of malt flavor and a body with a bit of heft. My expectations were met, for the most part. It had a medium body and there was definitely some bready malt flavor to be had but it undergirded more grapefruit hop bitterness as well as the coriander and the mellower fruitiness of the Nelson Sauvin hops. The orange peel tasted much sweeter than I anticipated as it blended with the malt to provide some contrast to the hops.
The beer finished fairly dry with the citrus hop flavor becoming more herbal and the typical clean lager taste.
I chatted with Scott Manning over at Vintage not too long and he said that Lohman had a real affinity for the Amarillo/Nelson Sauvin combination during his tenure there so he wasn't surprised by Blister in the Sun's use of these hops. They contribute lots of citrus and fruit flavors which taste quite refreshing on a hot summer day but also belie the fact that this is a fairly big beer at 7% A.B.V. You'll want to sip this stuff in the shade instead of quaffing in quantity.
Having lectured you about how and where to drink Blister in the Sun I shall say that I found it much tastier than I thought I would. India anything beers are a turn off for me because of over-hopping. While the hops are certainly prominent here, they are not completely overwhelming and do allow the other flavors of the beer to come through instead of doing a blitzkrieg attack on my tongue. I also appreciated how the coriander and grainy flavors provided contrast to the hops. Blister in the Sun is the aestival version of a barleywine in winter – a heartier beer to sip while enjoying the weather of the season.
Junk food pairing: Pair Blister in the Sun with spicy foods like Jalapeño Cheddar Chex Mix or Lay's Sriracha Potato Chips.
Labels: Beer, IPL, Wisconsin Brewing Company, Witbier
||
Palmer, 7:57 PM
||
link
||
(0) comments
|


26 July, 2015
So Much for the "Hidden Gem" on East Washington
Earlier this year the McGrath Property Group
proposed redevelopment
of part of the north side of the 1200 block of East Washington. A couple of used car lots would be removed (amen!) and the Patriot Glass building, a quonset hut, would have the facade removed and the building re-purposed. Quonset huts are semi-cylindrical buildings made of steel and date from World War II when the Navy needed a lot of easy to assemble buildings. Someone at McGrath called the quonset hut at 1212 E. Washington a "hidden gem" while project architect Joseph Lee said "it would offer 'a striking appearance' and serve as 'a great space for office, retail, restaurant or a bar.'"
I recently changed jobs which necessitated taking a bus down East Washington and recently noticed that the hidden gem is gone. A couple of months after The Cap Times reported on the project McGrath filed a
Letter of Intent (PDF)
with the city which noted that the quonset hut would be demolished. That's too bad. I'm no
Lee Bey
or
Blair Kamin
nor do I have a great affinity for quonset huts but keeping it would have given the project something unique. As it stands now, we're going to get three storeys of "Modern Warehouse", whatever that may be.
Labels: Architecture, Gentrification, Madison
||
Palmer, 9:39 PM
||
link
||
(0) comments
|


Kirby Nelson Gets His Rocks Off
Back on 12 July Kirby Nelson, Mike McGuire, and the rest of the Wisconsin Brewing Company crew got out from behind their fancy computerized brewing equipment and put some craft into their craft beer. The occasion was Depth Charge, a new annual event at the brewery where the order of the day was to make a stein beer or "stone beer". Cast your mind back to the plight of the medieval brewer who didn't have stainless steel steam jackets. Instead she had wooden vessels that couldn't withstand direct heat. How to boil the wort? The solution was to heat rocks and put them into the brew kettle.
A stein beer isn't a style of beer but rather descriptive of a brewing method just like the more common lagerbier/lager beer. In this case Nelson was brewing a Scotch ale. I've never had a stein beer before although Mark Duchow of Sweet Mullets Brewing Co. in Oconomowoc brewed one about three years ago. Putting red hot chunks of granite into wort is reputed to produce a brew that is smoky and sweet which seems an apt description of the Scotch ale.
McGuire told me that the plan had originally been to use curling stones but that they were unable to withstand the heat and disintegrated in a test fire. Replacements were hastily found and you can see them being heated above. It was McGuire who drove the telescopic fork lift that carried the stones to the vat-in-waiting.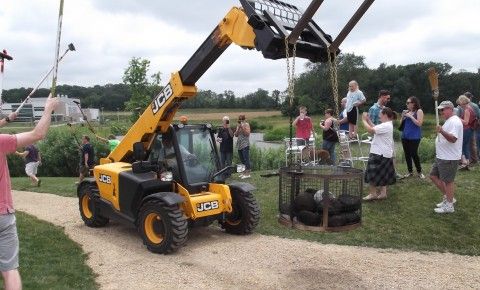 I'm not sure why curling stones were originally chosen. Perhaps someone at WBC was a curler or it simply seemed a good symbol of our boreal traditions. Whatever the case some curlers from the Madison Curling Club were present with brooms in hand to keep us riff-raff away from the hot stones. And, with the object being the brewing of a Scotch ale, a group of bagpipers were also on hand to regale the stones on their journey to the wort.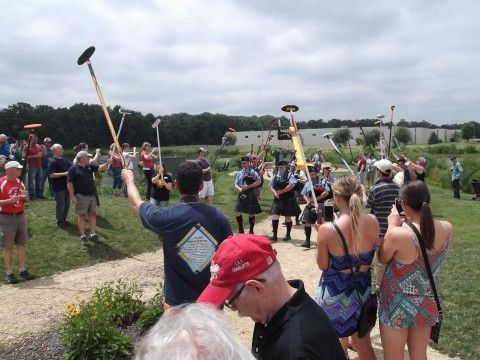 Nelson, like McGuire, was clad in lederhosen but he was perched on a rising platform along with a couple of other WBC folks. And a flintlock pistol or two.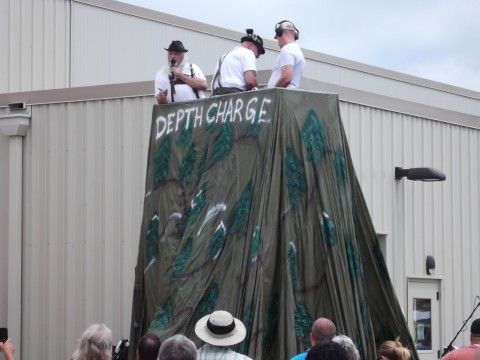 After a couple pistol shots and some admonitions to the crowd to stand back, McGuire lowered the rocks into the kettle.
No rocks exploded and no bystanders were scalded by the wort. Once the luscious brown liquid was reduced to a simmer we were allowed near the kettle. It smelled fantastic- full of smoky caramel goodness.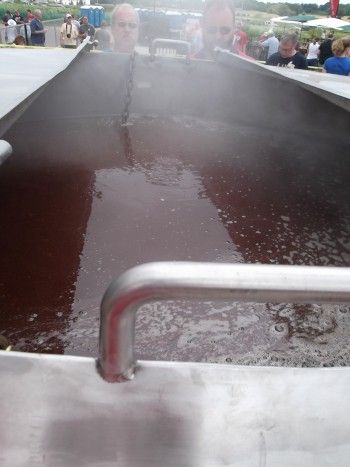 Patrons were allowed to reserve bombers of the finished brew for $20 a pop. They're due in October.
Depth Charge is to be an annual event and Nelson said that next year he'd be making a doppelbock steinbier. It looks to be a fun event and potentially a replacement for the bockfest that he hosted at Capital for many years. Instead of throwing chub from the roof while perched on a dinosaur, Nelson can emcee as heated stones are dropped into a brew kettle. The day also featured music with John Dee Graham taking the stage at 2.
And of course there was plenty of beer to be drunk while lounging beside the retaining pond. Blister in the Sun, their new India White Lager, was to be had along with what was touted as a special fresh batch of Big Sweet Life, Nelson's traditional maibock. The Dulcinea took a shine to the former starting at around 11:00 that morning. Inaugural Red was also on tap. If the shelves at Woodman's were anything to go by, this beer, developed by UW students, is selling well. I sure hope so because I heard a rumor that WBC had gone through five years worth of money in only two. I also hope that this is pure rumor mongering.
WBC has a nice semi-rural location and there was a goodly sized crowd on hand to witness the dropping of the stones. Many people brought their children and a few brought picnic baskets with them. While the place lacks the Old World bier garten feel of Nelson's old stomping grounds in Middleton, it certainly had that wonderful neighborly social vibe that Nelson sees his brews as being the perfect complement to.
Labels: Beer, Brewing, Stein beer, Steinbier, Wisconsin Brewing Company
||
Palmer, 5:37 PM
||
link
||
(0) comments
|


24 July, 2015
The Beer I Should Have Reviewed Last Autumn: Schell's Fresh Hop Equinox (2014)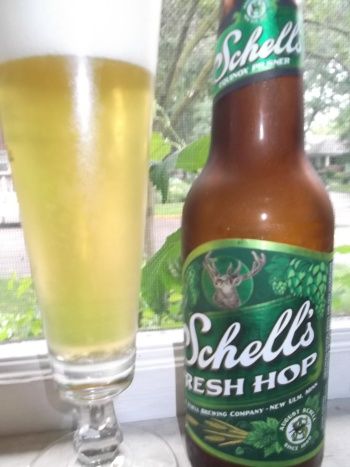 Schell began billing itself as a "German craft" brewer last year. I've never encountered an explanation for the rebranding effort but I've always assumed it was partly a response to the Brewers Association declaring that Schell was
crafty but not a craft brewery
a bit more than a year before. I also assume that Schell was trying to stake out its own territory and differentiate itself from the hordes of craft brewers out there who pump out IPAs of various colors and strengths as if they were desperately attempting to resurrect a defunct style.
This is certainly not to say that Schell is incognizant of trends. With millions of ironically mustachioed men out there gleefully calculating on their iPhones just how many moles of humulone are in a bottle of 3 Floyds Alpha King, the fetish for hops just cannot be ignored. Bowing (perhaps) to the tyranny of the minority and, I would imagine, a desire to give new ingredients a try, Schell developed the Fresh Hop series. Fresh Hop beers are pilsners brewed to showcase a particular variety of hop with the cones entering the brew kettle no more than 48 hours after they've been harvested. To date newer varieties of hops have been utilized. The initial Fresh Hop came out in 2012 and featured Citra hops with Mosaic being featured the following year.
Last year's batch
put Equinox hops into the spotlight.
I was unable to find out exactly when Equinox was first grown but it was given its moniker only last year when it was decided by the hoppy powers on high that "HBC 366" was not a particularly sexy name. Having read about it a bit, it seems that Equinox is like the Swiss Army knife of hops – it adds aromas and flavors that are fruity, citrusy, floral, and herbal – basically every olfactory/gustatory quality a hop can have. Well, until an entrepreneurial farmer crosses the venerable hop with a corpse flower.
Fresh Hop Equinox, as you can see from my slightly out of focus photo, pours a brilliant straw color. It is as clear as a pilsner can be. My pour resulted in a fine pillowy white head that lasted almost the livelong session. (Not sure if this is because I drank quickly or if the head lasted a long time.) Fresh Hop was an effervescent brew with lots of bubbles making their way up the glass.
Perhaps it was because my Fresh Hop wasn't particularly fresh – not that it was very old either – but my nose didn't catch everything and the kitchen sink like I expected after reading about these Equinox hops. Descriptions made it sound like I'd take one whiff and be overwhelmed by a bouquet that included notes of every tropical fruit known to man. That did not happen. I did, however, catch a bright citrus scent as well as a mellower grassy one which I felt was a rather nice combination. All of these were present in the taste. But wait! There's more!
The citrus scent became more focused and made me think of orange, more specifically, mandarin orange according to my notes. I really enjoyed the floral notes that were present here too. Schell does a good job with pilsners, to my taste, as they capture very well the biscuit kind of flavors I prize so highly. No exception here. There was also a mild and slightly sweeter malt flavor here as well – think graham crackers. The carbonation added a bit of dryness. Fresh Hop finished as you'd expect a pilsner hopped with a Nobler variety like Saaz to finish – dry with a good dose of spicy/grassy hoppiness.
My glass had minimal Schaumhaftvermoegen as the foam quickly slid down the side of the glass and into the waiting arms of the beer.
Jace Marti and the folks at Schell have done a great job here with Fresh Hop. It's medium light body and rather modest (by U.S. standards, anyway) 5% A.B.V. make it suitable for having more than one in a session but so does the array of inviting flavors here. Being a lager, the malt component is clean leaving the Equinox hops to take center stage. They offer grass and citrus in the nose and then add those plus floral notes on the tongue. For the finish they mimic a Noble hop with a bit of spiciness. Fresh Hop marries Old World subtlety with New World brashness for a brew that is at once quite approachable yet also unpredictable.
Junk food pairing: if you still have any Fresh Hop drink it now before the 2015 hop crop is reaped. And do so with a handful of Blue Diamond Wasabi & Soy Sauce almonds. Fresh Hop's finish will complement the wasabi while the myriad of other flavors in the beer will both accentuate and contrast with these little umami bombs. It's like a party in your mouth.
Labels: Beer, Pilsner, Schell Brewing
||
Palmer, 7:22 PM
||
link
||
(0) comments
|


22 July, 2015
Brenner Is Da Bomb: Bacon Bomb by Brenner Brewing (Alliteration Is In)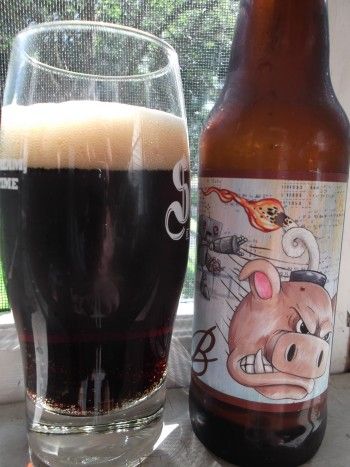 Milwaukee's
Brenner Brewing
is a relative newcomer. If memory serves, the brewery opened in Milwaukee's Walkers Point neighborhood last year and they began distributing here in Madison only last month. Or was it May? Regardless of when Mike Brenner's brews arrived on Madison store shelves, it was a rather quiet affair from what I could tell. It doesn't seem that Brenner has a flagship beer like Spotted Cow that is widely known nor a highly sought-after IPA that gets the hop heads hotter than a whore in a cucumber patch.
I was happy to hear that Brenner would begin distribution here in Madison because they brew Bacon Bomb, a rauchbier. The poor rauchbier. Back in May during Madison Craft Beer Week I was as The Malt House chatting with owner Bill Rogers and Metropolitan's Tracy Durst. I brought up rauchbiers and Bill said that he no longer carries them as apparently I was the only person who drank them. L-A-M-E. Rauchbier just gets no love. The Wisconsin State Journal's Beer Baron, Chris Drosner,
"can't stand smoked beers"
while Isthmus' beer writer Robin Shepard admits
"Smoky beers are not for everyone, and I'm one of those who shy away from them."
L-A-M-E. And seriously Mr. Shepard, some German rauchbiers that have an overwhelming smoke flavor "can leave the impression that the wort was filtered through an ashtray"? That sounds pretty asinine to me. Granted, I've never been to Germany but none of the half dozen Schlenkerla beers I've had tasted like they were ever near an ashtray. Does Mr. Shepard ever complain about the overwhelming hoppy bitterness of IPAs that taste like they were mopped up from the floor of a malort factory? Does he ever complain about brett beers that can leave the impression that the wort was filtered through a swamp?
Don't worry, though, dear reader. I'll be your pregustator since the professionals in this locale are lame and won't help you.
On to Bacon Bomb.
Ooh la la! Just look at that deep, sexy reddish brown color! It pours clear and I got a nice tan head which dispersed rather quickly. The effervescence was on the low side with only a smattering of bubbles on the bottom of my glass. And notice how my glass has a slight, in the words of Robin Shepard,
"inward taper"
to focus/concentrate the smoky goodness at my proboscis. As I looked at the beer it was impossible not to smell it. In fact, I could smell the smokiness upon opening the bottle. Brenner advertises that it uses both German beechwood and Wisconsin cherrywood smoked malts in Bacon Bomb and there was a certain sweetness to the smoke aroma which may have come from the cherry. In addition to the rauch goodness there was a hint of an earthy/camphor-like scent – black pepper is added to BB.
And what would a beer named "Bacon Bomb" taste like? Bacon! Smoke! My baseline rauchbier is something by Schlenkerla and BB certainly has plenty of that smoky bacon flavor, though not as much as Schlenkerla's Märzen oder Urbock. It was right around the level of their Weizen. The pepper was in the background here though certainly noticeable. And there was a bit of bready, malty sweetness to be had as well. Brenner notes that they use a yeast strain which makes for a light body and I have to say that I was rather surprised by this. In fact, I'd rather that the beer were a bit heavier on the tongue. There is also chocolate wheat in the grain bill and I have to say that I prefer beers with smoky/roasted grain flavors to, in general, have a mouthfeel that is more towards medium than light.
Bacon Bomb finishes with some lingering smoke flavor as well as herbal/grassy hoppiness. Again, going by the touchstone of rauchbier, Schlenkerla, BB has a more prominent hop flavor. It's not very strong, mind you, but it does provide some contrast as well as some dryness to the finish.
To the best of my knowledge Bacon Bomb is brewed year-round which is fantastic news. There is a distinct paucity of smoked beers around town. BB has a goodly amount of smoke flavor and I love the addition of pepper. It is 5.3% A.B.V. and goes down quite easily. My only complaint is that the body is on the thin side. This isn't a fatal flaw – more an observation on how Bacon Bomb compares to the Platonic Ideal of a rauchbier. Along these lines I have to admit that I don't know what style BB is. It tasted closest to a Märzen but I think the addition of chocolate wheat keeps it from strictly adhering to a recognized style.
Junk food pairing: I found that Bacon Bomb went quite well with Extra Toasty Cheez-Its as well as Jalapeño Smokehouse Almonds.
Labels: Beer, Brenner Brewing Company, Rauchbier
||
Palmer, 9:20 PM
||
link
||
(2) comments
|


The Feng Shui of Beer: Lakefront's Cherry Lager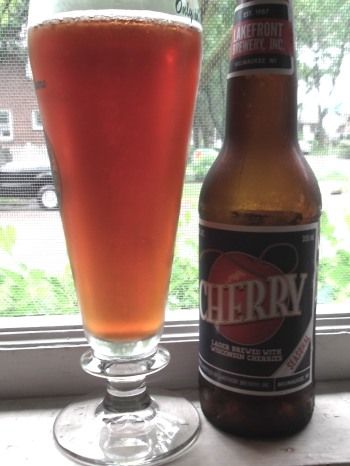 Spring is apparently the season for cherry beers. First I tried Victory's wunderbar
Kirsch Gose
and now we have Lakefront's
Cherry
. Cherry is one of Lakefront's seasonals and I believe it is their late spring offering following Lent and the brewery's Shrovetide maibock.
Lakefront is one of the grandfathers of Wisconsin microbreweries. The venerable brewery started in 1987 just after Capital and Sprecher but it's only been in the past several years that growth has really taken off. They innovated by brewing a gluten-free beer, New Grist, and have more recently taken the plunge into the IPA waters. Plus Lakefront simply brews some really tasty annuals with their Riverwest Stein Beer, an amber lager, being a fairly common sight on taps in Madison.
Most of the brewery's year-round beers are now ales but most of their seasonals, including Cherry, are lagers. Cherry, then is at once a nod to the German brewing traditions of Milwaukee as well as a novel pairing of beer and fruit. I suspect that most beer drinkers tend to think of Belgian kriek lambics when it comes to cherry brews and not German-style lagers. (Although German brewing traditions once included the
Kirschenbier
, which was apparently similar to a kriek.)
Cherry, as you can see from the photo above, is a pretty reddish brown. I got a nice pink head on my pour but it didn't last long. It was also rather effervescent as there were lots of bubbles heading upwards and onwards.
The brew's bouquet was as nice as it looked with a bready, malty sweetness and the scent of tart cherries being most prominent. I also caught a more general fruity aroma that was redolent of stone fruit. The beer's flavor mirrored the nose with the succulent sour cherry flavor from the Wisconsin Montmorency cherries hitting your tongue first. Hot on these fruity heels was the fine grainy flavor that tasted less sweet than its aroma. It was a bit like toast and reminiscent of melanoidins or whatever you call those wonderful malt flavors you get from Malliard reactions.
Cherry finished with a nice lingering cherry tartness plus a bit of spicy hop (Mt. Hood?) flavor.
Truth be told, I thoroughly enjoyed this beer. It has a fantastic fresh tart cherry flavor which is complemented by a malt-grain flavor that isn't too sweet and just a touch of hop bitterness for good measure. All of the flavors are in harmony here as if it were brewed according to feng shui. (Perhaps Lakefront's tanks point north to Door County.) I'm not sure what kind of malt or malts were used in this beer but I loved their toasty flavor. I wish more American brewers would use melanoidin-rich malts or decoct or do whatever it takes to get these flavors.
Cherry's medium body and 6% A.B.V. make for a nice spring beer – some succor for those final cool days before the summer heat descends.
Junk food pairing: Raise a glass of Cherry along with some pork rinds and/or smoked string cheese.
Labels: Beer, Cherry Beer, Lakefront Brewing
||
Palmer, 8:08 PM
||
link
||
(0) comments
|